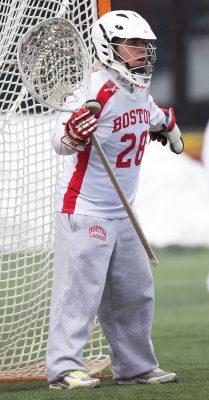 In its first game of the 2017 season, the Boston University women's lacrosse team fell to crosstown rival No. 17 Boston College in Chestnut Hill.
Despite being dominated 21-5 on the draw control, the Terriers (0-1) managed to stay competitive all afternoon before eventually falling 13-11.
For a younger team that lost three of its five leading scorers from a year ago, BU didn't show any signs of first-game jitters.
BU head coach Liz Robertshaw challenged her team after a disappointing scrimmage against the University of Connecticut, and despite the losing effort, she was pleased with its response.  
"I thought they did a great job in terms of being prepared for this game, mentally as well as physically," Robertshaw said. "I thought the energy level was everything I asked of them. We talked about it earlier this weekend after our UConn scrimmage that didn't go that well. I said, 'I need more' and they came out ready to play, and I'm really proud of them for that."
The result was encouraging for the Terriers, considering their performance on draw control. Freshman midfielder Mackenzie Howe took over for the graduated Jill Horka, who took draw controls all four of her years at BU and holds the program record with 236 draw controls.
"I think this was a learning experience for us," Robertshaw said. "We had a freshman taking the draw. We need to just get comfortable with it. It's definitely a weaker part of our game, but I also told the girls that with a 90-second shot clock, draw control is going to be less important.
"If you had told me we'd lose the draw control 21-5 but lose the game 13-11, usually that doesn't pair up. But with the 90-second shot clock, that can happen."
The 90-second shot clock is a new rule imposed in the 2017 season. Since each team is forced to shoot within 90 seconds of gaining possession, it diminishes the importance of winning draw controls. This particular Terriers team may benefit more than others from the rule change, as the shot clock can help make up for lack of experience on the draw control and it allows their defense to play to its strengths.
"Our defense did a really good job of draining the shot clock," Robertshaw said. "That's something our team has locked into — holding a team not to shoot for 90 seconds. On offense, we've had some steps and looks, but it isn't something that worries us."
However, BU's deficit on the draw control still forced it into some tough defensive positions.
Senior goalkeeper Caroline Meegan more than held her own in goals, making 17 saves.
"I think Caroline had an excellent game," Robertshaw said. "She was outstanding. She really was the backbone of this defense. A couple calls went against her and that was unfortunate, but overall I thought she had a spectacular game."
"We had good one-on-one defense," Robertshaw said. "For us to hold them in a game like today, especially losing the draw controls 21-5, holding them was a really good job by our defense. I was impressed."
Senior attacker Elisabeth Jayne and junior attacker Avery Donahoe each recorded hat tricks on the day. Jayne, a Merrimac native, was the driving force of BU's offense all afternoon. She led the team in goals, shots and ground balls. Senior attacker Taylor Hardison led the team with four assists.
Robertshaw said she was pleased with the performance of her seniors, but she specifically said that their mental toughness stood out.
"From our seniors, I saw a level of confidence about the game," Robertshaw said. "At no point did they look rattled. I felt like they got the team prepared mentally. They never once put their head down, and that's senior leadership."
While the Terriers mainly relied on more experienced players, Howe saw ample playing time and recorded her first collegiate goal. As for the rest of the freshmen, Robertshaw said the improvement from BU's scrimmage was noticeable and she hopes to see growth from the young group.
"They didn't show the nerves that we saw with our scrimmage this weekend," Robertshaw said of the freshmen. "They looked pretty settled, they looked comfortable in the game. I think the next step, though, is for them to become goal scorers and be aggressive and feel like they can dominate a game and not just be on the field."
Even in defeat, Robertshaw said she was proud of the way her team battled.
"I've learned that this team has a lot more grit than I gave them credit for last week," she said. "They really stepped it up and showed me a new level of intensity that they can bring to the field."