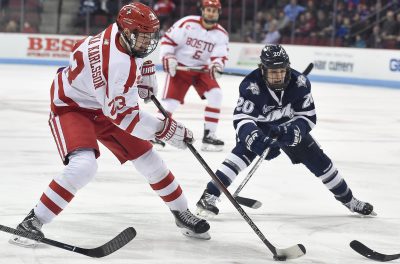 Twists and turns were commonplace on Friday night at Agganis Arena.
The University of New Hampshire came out firing, the No. 4 Boston University men's hockey team answered back and the status quo continually rocked back and forth.
By night's end, though, the Wildcats (12-14-5, 7-8-4 Hockey East) and Terriers (19-9-3, 11-5-3 Hockey East) skated to a 4-4 overtime draw, stalling a two-game skid for head coach David Quinn's side.
"You can't lie to yourself, the game doesn't lie to you," Quinn said. "We saw what happened, we know what happened, we played well. We played well and I'm proud of our team. Let's leave it at that."
BU won the shot battle, 44-24, but that hardly told the whole tale.
New Hampshire came out firing right from the get go, with Michael McNicholas finishing a tic-tac-toe move on the power play, a whole 3:07 in. With 11:42 gone, sophomore Ara Nazarian made it a 2-0 game, stripping junior defenseman Brien Diffley and dishing between freshman goaltender Jake Oettinger's legs.
"This is a funny game and these guys are kids and they're teenagers and their psyche is fragile right now," Quinn said. "The first goal goes in and poof, all of a sudden we look like someone shot our dog. The body language, the lack of enthusiasm, the lack of passion was evident. We looked like a team trying to find its way."
Come the second frame, the Terriers seemed to have remedied their slow start.
Sophomore forward Jordan Greenway beat goaltender Danny Tirone from the slot with 6:17 gone, and then it became a 2-2 game 2:54 later. Sophomore forward Bobo Carpenter capped off a swift rush from freshman forward Patrick Harper, making it a 2-2 game.
That momentum couldn't be carried forth, though, as UNH again entered the driver's seat.
Blueliner Dylan Chanter beat Oettinger with a wrist shot from the point to make it a 3-2 game, then senior Tyler Kelleher added another with 40 seconds left in the frame. The nation's second-leading scorer was left alone in the slot and finished with ease under Oettinger's glove.
"It's always a bit of a momentum swing when you get a goal right before a period like that," said sophomore center Jakob Forsbacka Karlsson. It was pretty tough, but we just had to regroup and go out in the third and try to bounce back."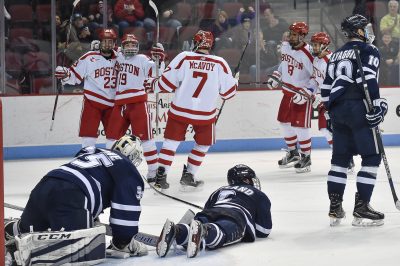 Then the comeback kicked off.
Just 20 seconds into the third, sophomore defenseman Charlie McAvoy whipped the puck towards goal from the point. He beat Tirone five hole, and it was BU's turn to pile on the shots.
The equalizer finally came with 4:24 left, as Forsbacka Karlsson jammed home a sequence that Greenway sparked, causing overtime. Despite chances on both sides, neither could finish in the five extra minutes and both teams were forced to settle for a point.
"The guys battled them tonight," said UNH head coach Dick Umile. "We had a chance to win the game, we didn't. We ended up tying, so we'll take the point and go back and get after it again."
As Umile alluded to, the Wildcats and Terriers will square off again on Saturday evening, this time at the Whittemore Center.
Come that tilt, BU will try and keep pace atop the Hockey East standings. It currently sits in second place, and is looking to secure a first-round bye.
That bid, Forsbacka Karlsson said, looks good if the Terriers can replicate their final 25 minutes from Friday.
"Obviously it's going to be two huge points for us," Forsbacka Karlsson said. "We're still trying to catch up to the league lead here, so we just have to keep on tomorrow building on the second and third period that we had."