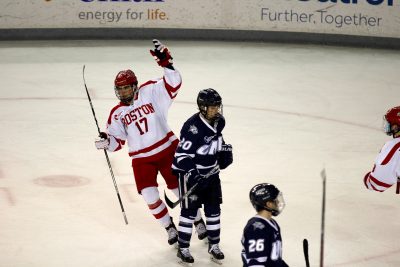 After going 0-2-1 in its last three games – its longest winless streak of the 2016-17 season – the No. 4 Boston University men's hockey team needed to dig deep to climb out of the gutter.
Moreover, Saturday's tilt at the University of New Hampshire represented a tall task, too. By night's end, it was no singular player stealing the headlines, but rather the collective.
Thanks to an 8-4 victory, the Terriers (20-9-3, 12-5-3 Hockey East) held onto second place in the Hockey East standings and are back in the win column for the first time since Feb. 6.
"I don't want to say our season was on the line, but there was a lot on the line," said BU head coach David Quinn. "To do what we did says an awful lot about that guys in the locker room. This is as good of a weekend as we've had all year."
Despite the team effort and never-say-die attitude, BU solved the Wildcats (12-15-5, 7-9-4 Hockey East) early on through two of most unlikely sources.
With 4:12 left in the first period, junior defenseman John MacLeod rocketed home his first goal of the year to knot the score at 1-1. Then junior forward Chase Phelps scored off the pipe 4:49 into the second period, marking just the seventh tally of his career.
The names didn't matter to Quinn, though.
"I alway talk about our national championship team in 2009," Quinn said. "Everybody knows [Nick] Bonino, [Matt] Gilroy and [Colin] Wilson and all those guys, but not a lot of people know Steve Smolinsky. Well, Steve Smolinsky played a huge role in us winning a national championship, and if you're going to win, you need everybody."
While MacLeod and Phelps got the ball rolling, BU's big guns eventually reached second gear as the game wore on.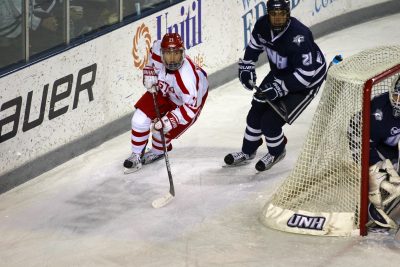 Freshman forward Patrick Harper, who now has 31 points on the year, beat Wildcat goaltender Danny Tirone twice, including the game-winner with 3:30 gone in the final frame.
Even freshman forward Kieffer Bellows and freshman defenseman Dante Fabbro each snagged one, pushing their point totals on the year to 11 and 14, respectively. And the ever-dependable Bobo Carpenter, a sophomore center, added the insurance tally with 3:33 left, making it 7-4.
If that wasn't enough, freshman forward Clayton Keller added insult to injury late on, potting an empty-netter to seal the 8-4 scoreline.
"It shows our depth going into the last few games here then off into playoffs," Bellows said. "MacLeod started us big with his huge one-timer, he's got a really strong shot. Nick Roberto played really well. I think everybody played really well. All in all, a good team effort."
For Harper, the night's first star, the biggest advantage for the Terriers was playing on the Olympic-sized sheet at the Whittemore Center. That gave the Nashville Predators draft pick and his teammates room to operate, ultimately piling 37 shots onto Tirone.
With the win – and perhaps most impressively of all – BU now has reached the 20-win mark for the fifth time in the last six years.
"Lately we haven't been scoring a ton of goals, and I think tonight was a great night to get a lot in the back of the net," Harper said. "We never gave up and were pretty optimistic in the room. We knew good things were going to happen when we move the puck and skate hard away from it."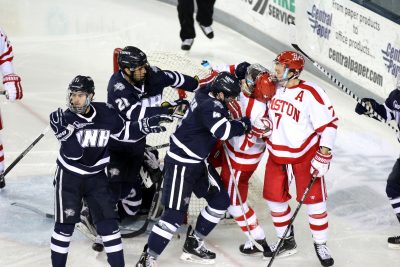 Looking at the bigger picture, BU took three of a possible four points from UNH on the weekend, having tied, 4-4, at Agganis Arena on Friday night.
The bigger impact, though, lies in the impending Hockey East playoffs. Due to other results around the league, the Terriers are guaranteed a first-round bye and are now within two points of No. 11 Boston College, the conference leaders.
"It's definitely good getting three out of four points," Harper said, "but we have to build on this."
If all goes to plan, BU will do just that when No. 15 University of Notre Dame comes to town for a two-game series next weekend.
During those clashes, seding will be there for the taking.
"We know what we have in store for us next weekend," Quinn said. "We have a really tough Notre Dame team and a lot's going to be on the line."