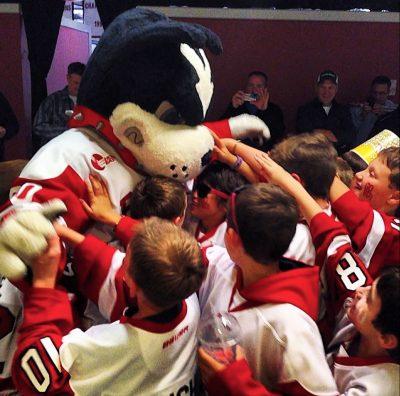 With Boston University's Mascot Program kicking off its first day of auditions this past Friday, BU's Department of Athletics is looking for interested students to take on the role of Rhett the Terrier, in hopes of growing the program.
Being Rhett the Terrier means much more than showing up at games to support athletes, said Nafeesa Connolly, the assistant director of marketing and promotions of the Department of Athletics.
"We've had Rhett make appearances in admissions videos, we've had them work with alumni relations," Connolly said. "Just this weekend, we had one of our mascots do an engagement video and photoshoot with some of our alums."
Rhett the Terrier, as the university's website states, is the "heart and soul" of BU. Since Rhett is seen as a symbol of pride for the university, student mascots hold a lot of responsibility, Connolly said. They also get paid $11.75 per hour, she said.
"When you're in a capacity like the mascot, you're a steward of our brand and a steward of the university," Connolly said. "You're obviously behind a mask and in a suit, but that's what people know BU for."
As the mascot represents the university, there are several qualities Connolly considers when selecting a new member to join the family. In addition to being "fun, energetic and good with kids," there are other requirements that an aspiring Rhett must meet," Connolly said.
"We definitely want to make sure that mascots can show some dance moves," she said. "I mean, who doesn't love a good mascot that can do that?"
In order to select a qualified candidate, those auditioning have to put their entertainment skills to the test in various ways during the audition.
"We will have students at some point get in the suit and even walk around campus with us," Connolly said. "Outside of the external community, they have to engage internally, and obviously, that's with our students."
For current mascot Rob, who requested The Daily Free Press to not use his last name because Rhett's identity should be "more of a secret," the most important thing for students to remember while taking on the role of Rhett is to have fun.
"As hot and sweaty and gross as that costume is, you get a lot of attention," Rob said. "You've got to build on that energy and just have fun with it."
One aspect of the program is the anonymity of the student mascots. Although this is not an official rule, students attempt to hide their identity as Rhett from their peers. Eric Betancourt, former mascot and now a senior in the College of Arts and Sciences, noted the importance of anonymity in the job.
"It wasn't a strict secrecy code, even though it was kind of like 'don't tell people,'" Betancourt said. "I remember one of the Rhetts made his profile picture of him in the costume with the head off, holding the head in the arms, and that's not cool."
Rob said that donning the Rhett costume is a positive way to get involved on campus.
"When I came for my freshman orientation the summer before my freshman year, I saw an ad for Rhett tryouts and I thought it would be a fun thing to do," Rob said. "It's really cool and unique. Not many people can say they were a college mascot."
According to Rob, there are several unique perks to being a college mascot.
"My favorite part has probably been the Beanpot," Rob said. "Getting to interact with the fans and getting to skate on the same ice as the Bruins is really cool."
Simone Migliori, a freshman in the College of Communication, said she is interested in joining the Mascot Program.
"It seems like a cool way to get involved with something on campus," Migliori said. "I also really love men's ice hockey, and it would be awesome to be involved with games in some capacity."
Migliori noted that several of her peers also seemed interested in auditioning, but were wary about the skating part of the job.
"I have a lot of friends who were talking about auditioning but didn't think they could because they can't skate," Migliori said. "I'm the only one out of my friends who feels comfortable being out on the ice."
Connolly said interested students are not required to skate in order to become a mascot.
"Right now I think people get scared because when they see the mascot, they think that they can only do it if they can skate, but I mean, if you can walk, you can do the mascot. If you can skate, that's even better," Connolly said.
As the program is currently understaffed, Rhett has been missing from other sporting games besides men's ice hockey.
Max Mahoney, a freshman in the Questrom School of Business and a member of BU men's basketball team, said he is eager for the prospect of expanding the Mascot Program and having Rhett appear at basketball games.
"It would be pretty cool if we could get one. I think it would get the fans into it and the crowd into it a little more," Mahoney said. "It's certainly something that would be beneficial to us as players."
Connolly said she understands that Rhett has been elusive lately and missing from the public eye during various games.
"You may look around and say, 'Where has Rhett been?' whether it's a basketball game or a women's ice hockey game. He's definitely been to men's ice hockey, but we're limited, and we need more students to do it," Connolly said. "It will definitely boost morale with fans, and with anybody at the games."