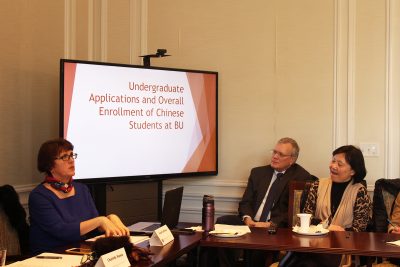 By Natasha Mascarenhas and Elise Takahama
For many international students, adjusting to American culture can be difficult. Once students are able to get past the initial culture shock, they're left to compete against homegrown candidates for internships and post-graduation work.
At Boston University, there's no shortage of this issue. International students represent 24.4 percent of the Class of 2019, making up the second largest group of the student body. BU is ranked ninth in the country for hosting the most international students.
"I think the makeup of the international portion of the freshman class 20 years ago, when I started, was very different," said Anne Corriveau, director of international admissions at BU. "Chinese students made up a much smaller percentage and those numbers have shifted."
Boston University's Frederick S. Pardee School of Global Studies, Center for the Study of Asia and Global Programs hosted "School in China, College in the US: Challenges and Rewards as seen at BU" on Wednesday afternoon, a talk that addressed why international students decide to attend the university.
Bob Murowchick, director of the International Center for East Asian Archaeology and Cultural History, welcomed the audience and gave brief introductions of the event's three speakers, Charlotte Mason, Anne Corriveau and Deepti Nijhawan, all BU employees.
The conversation leaned toward an in-depth discussion of some issues international students face and strategies the university can implement to ensure foreign students are just as academically and socially successful as American students.
Corriveau shared her research on the increase of international students at BU over the past few years. Her portion of the presentation focused on how the numbers have changed over time.
"It has a very positive effect from an economic standpoint," Corriveau said, citing a NAFSA study on the 2015-2016 academic year in Massachusetts. "They actually cite really impressive numbers in terms of economic benefits, but I think there's the whole obvious social added nuances they bring to this campus. How do you put a price on something that profound?"
According to the NAFSA study, international student enrollment generated $2.3 billion and 31,550 jobs in Massachusetts during the 2015-2016 academic year, which are numbers that have steadily increased over the past 10 years.
Qizhao Li, a sophomore trying to transfer into the Questrom School of Business from the College of General Studies, is from Shenzhen, China and said he felt the education system in China was much more rigid and traditional.
"American society is more open-minded and more creative," Li said. "So while I'm studying here, I'm getting an American education."
This rising trend in enrollment marks new responsibilities for professors, fellow students and institutions. There's a growing demand for international students to find professional experience while attending classes.
Esther Hu, a writing professor in the BU Arts and Sciences Writing Program who attended the discussion, explained that international students cannot apply for certain jobs in their first academic year because of regulations of F-1 student visas.
Students who have F-1 visas are technically allowed to work in the United States, but have to follow the guidelines issued by the U.S. Citizenship and Immigration Service. In a political context where immigration regulation is being strengthened, work flexibility becomes even less of an option.
Hu currently teaches a WR100 ESL course at BU, and said she does her best to connect with students in topics even outside the classroom. With this in mind, she attempts to interweave a broad range of skills in her lessons.
BU's Center for Career Development is currently working with international students and holding an event for them in March, wrote Eleanor Cartelli, senior associate director of the CCD, in an email to The Daily Free Press.
Yihang Wang, who prefers to be called Greyson, is a sophomore in the College of Communication and an international student from Hangzhou, China. He said the CCD and the International Students and Scholars Office have been really helpful in terms of job searching.
Although he said he is limited by visa policies, Wang does currently have an on-campus job in the George Sherman Union.
"It definitely is hard to find professional connections," he said, since he can only work on campus. As a public relations major, Wang said there aren't as many options for real work experience related to his professional goals. It can also be intimidating to reach out for help, he said.
"Being an international student, sometimes I feel I'm a little scared to ask questions and reach for opportunities," Wang said.
To remedy this, Wang suggested the university should offer more specific seminars for international students, although the ISSO does send emails about upcoming workshops for career development.
But despite these concerns, Li still said he was relieved to be at an American university and would rather be looking for jobs in the United States.
"BU is telling you to be yourself, and I really like that because in China sometimes you just cannot be yourself," Li said. "Chinese society really cares about social levels, your academic background and what your position is in your company. You have to sacrifice sometimes and you cannot be yourself. But BU has taught me that, which I think is a really helpful reminder."
This article has been updated.