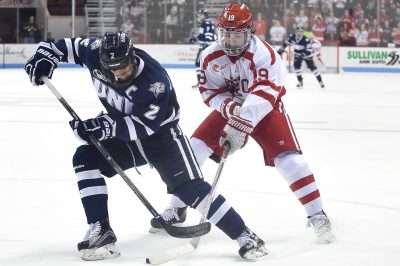 When No. 13 University of Notre Dame rolls into Agganis Arena this weekend, Hockey East seeding will be on the line.
The No. 6 Boston University men's hockey team and the Fighting Irish (18-9-5, 11-5-4 Hockey East) will face off on Friday and Saturday night, with the Terriers (20-9-3, 12-5-3 Hockey East) still eligible for the regular-season title.
Both squads will be vigilant of results just down the road – No. 14 Boston College and No. 5 University of Massachusetts Lowell will play a home-and-home set – that will also determine conference seeding. As of now, the Eagles (18-12-4, 13-4-3 Hockey East) are in first place, but BU, Notre Dame and the River Hawks (20-9-3, 12-7-1 Hockey East) could all make up ground.
"It always comes down to the last weekend, so if you're the better team [then] you're going to get those last few points to win it," said sophomore forward Bobo Carpenter. "We want to make sure that that's us."
For BU, the message is quite simple: Take care of business against Notre Dame, and the rest will fall into place. Doing just that is a different task, though.
Head coach Jeff Jackson's group is unbeaten in its last six games, taking three of four points from its most-recent series against a surging No. 10 Providence College team.
On an individual level, Notre Dame also boasts several elite players. Goaltender Cal Petersen ranks statistically among the nation's top 10 in goals against average (2.09), save percentage (.926) and shutouts (5).
At the forward position, junior Anders Bjork (43 points), sophomore Andrew Oglevie (34 points) and junior Jake Evans (33 points) are among the country's top 30 scorers. Then on defense, junior Jordan Gross was a Second Team Hockey East All-Star member in 2015-16, while sophomore Bobby Nardella was a Hockey East All-Rookie Team honoree a year ago.
"I don't see many weaknesses," said BU head coach David Quinn. "We're going to have to be at our best. Watching them against Providence, they're as impressive a team as we're going to see all year."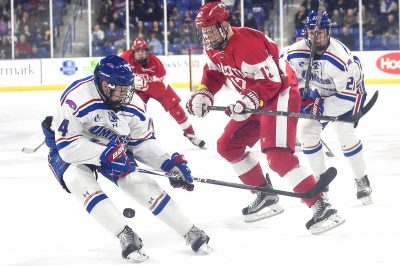 As vaunted as Notre Dame is, BU seems to be discovering its form with playoffs just around the corner. Courtesy of taking three of four points last weekend from the University of New Hampshire, the Terriers are now guaranteed a first-round bye in the Hockey East playoffs.
That comes on the tail end of a 3-4 stretch, including a sweep at the hands of Merrimack College and a 6-3 loss to No. 3 Harvard University in the Beanpot Tournament final.
"We gradually got [confidence] back, and it's not like you're going to get that back overnight," Carpenter said. "We stuck to it and worked hard and it's finally back. We have a good momentum shift going into the rest of the year."
Should BU find success, it'll need its newfound lines to keep on gelling.
The top unit now consists of freshman Clayton Keller and sophomores Jordan Greenway and Jakob Forsbacka Karlsson; the second has freshman Patrick Harper, sophomore Bobo Carpenter and Nick Roberto; while the third includes freshman Kieffer Bellows, sophomore Ryan Cloonan and junior Chase Phelp; and the fourth is comprised of freshmen Gabriel Chabot and Patrick Curry and a to-be-named player.
Senior captain Doyle Somerby, after playing forward in both games against UNH (12-15-5, 7-9-4 Hockey East), will return to defense. Quinn said, meanwhile, that freshman goaltender Jake Oettinger will start on Friday night.
"This league is all about matchups," Quinn said. "You matchup against some teams better than others. We haven't seen each other in a year, so we'll see how we match up against them this year."
All things considered, this weekend could bring about the Terriers' first regular-season championship since 2014-15.
Thus, the mentality is to take it one game at a time and see what unfolds.
"We're focusing on winning Friday night, and all this other stuff will come from the results on the weekend," Quinn said. "We have to live in the moment and focus on doing the things we need to do to win Friday night."