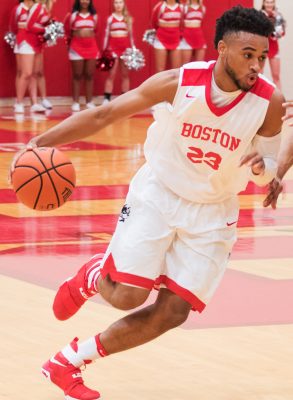 As the Boston University men's basketball team prepares for the Patriot League Tournament with the ultimate goal of getting to the 68-team NCAA Tournament, fans cannot help but notice that three of the team's players have been absent from the games.
Senior center Blaise Mbargorba, junior guard Cheddi Mosely and freshman guard Destin Barnes all have not played in 2017. Mbargorba was last seen on court on Dec. 7 against Canisius College, Barnes hasn't played since Dec. 10 at Syracuse University and Mosely last appeared on Dec. 18 against the University of New Hampshire.
Not only have they been absent from the court, none of these three players have sat on the bench during home games, at least since the spring semester began.
BU head coach Joe Jones has insisted from the beginning that the status of all three players is being handled internally, but said "those guys aren't with us right now."
He declined to comment any further.
"As I have said before, this is an internal matter, and that's where this is going to stand," Jones told The Daily Free Press later in another interview. "I'm sorry if that makes you a little uncomfortable, but that's where it's going to stand."
BU spokesperson Colin Riley echoed Jones' statement that it is an internal matter. He also declined to comment any further.
Mbargorba, Barnes and Mosely were not available for comment.
Several fans said the lack of clarity on the matter from the team and university has made them feel uneasy.
"It's definitely something that is weird," said Michael El-Hayek, a junior in the College of Arts and Sciences. "The whole 'internal matter' thing is a little upsetting for a fan. We don't have any idea how serious it is or what exactly went on, so it's kind of frustrating from a fan's point of view that you can't even get a comment more than 'internal matter' out of Joe Jones."
Cullen Deimer, a CAS senior, said that he wishes the team would be more clear, but he understands that it is a sensitive situation.
"It's kind of disappointing as a fan to not know what's going on just because you want to know why they're not playing," Deimer said. "But at the same time, if [the team is] so steadfast in not releasing information, I guess they must have their reasons for it."
Others, such as Benjamin Liang, a sophomore in the College of Engineering, said they think that fans should trust the team to update them when it feels the time is right.
"I guess that's understandable [for the team to not want to talk about it]," Liang said. "You wouldn't want any rumors going around. I trust that they'll handle it professionally and that they'll release information once they know what's actually going on."
For the Terriers, although the loss of Mbargorba, Mosely and Barnes has been cushioned by the play of the bench, but losing three of their top players has diminished BU's depth.
Senior guard Eric Fanning, BU's leading scorer, said it was difficult for the team to lose three players, and it has forced everyone to push themselves.
"It was tough at first, it's always tough losing those kind of guys," Fanning said. "Other guys stepped up, [junior guard] Will [Goff] has done a great job. Will brings so much to the table … filling in for Cheddi. All of our young guys have been stepping up. We have to step and fill the shoes for those guys because those guys did a lot for us."
Mbargorba's absence pushed freshmen forwards Tyler Scanlon and Max Mahoney into solidified roles in the lineup. Up until Senior Day on Sunday, Scanlon started 18 games straight, beginning on Dec. 10, the first game in Mbargorba's prolonged absence.
For some, though, Scanlon and Mahoney's success as freshmen makes the loss of Barnes even more disheartening. The trio made up one of the most promising BU freshmen classes in recent memory, and Barnes was the first of the freshmen to show promise, shooting 40 percent from behind the arc in the 10 games he played in.
Deimer said that the absence of Mbargorba, Mosely and Barnes is noticeable and feels that fans missed out on seeing those players. Barnes in particular, he said, progressed over the course of the season.
"I think it definitely is [noticeable]," Deimer said. "I just remember earlier in the season, Destin as a rookie, along with Tyler and Max, they were kind of lighting it up. So to see that part of the trio gone, I kind of miss that."
Jonathan Chang contributed to the reporting of this article.