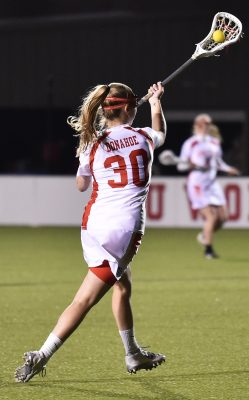 The Boston University women's lacrosse team hopes to earn its first win of the season in Saturday afternoon's home opener against the University of Massachusetts Lowell.
The Terriers (0-1) will return to action 10 days after coming up short to neighboring rival Boston College 13-11 on Feb. 15.
The 10-day break will be the longest downtime between games the Terriers will experience all season. But since it comes after a first game that had many lessons to be learned, BU head coach Liz Robertshaw says that the extended time off may benefit her team.
"It allowed us to look at the BC game and really figure out the things we did well and the things we didn't," Robertshaw said. "It's given us some time to work on it."
While the Terriers have only played one game, an exhausting preseason of practice and training preceded its opening contest, and the rest period has given the Terriers a chance to catch their breath before the schedule picks up.
"[The time off has] also allowed us to rest up a lot of the girls," Robertshaw said. "They hit each other a ton, they're going five, six days a week, so after having that first game, to have this amount of time off, I think it's allowed them to rest their bodies a little bit and get re-energized because we're going to go into a stretch that we play a lot more competition in a shorter amount of time."
In BU's loss to the Eagles (4-2), it struggled mightily in the draw control, losing 21 of 26 attempts. The loss of all-time program draw control leader Jill Horka has left a major void that BU has yet to adequately fill. Robertshaw is well aware of her team's struggles in the draw control and believes that it is crucial to help her team win the possession battle.
"We need to do better on the draw control," Robertshaw said. "We've been working on that with our draw unit, they've been more aggressive in practice and I've liked what I've seen."
In spite of their struggles in the draw control, the Terriers managed to keep themselves in the game with stifling defense.
It certainly helped that Preseason All-Patriot League senior goalkeeper Caroline Meegan was a rock between the pipes. Meegan's 17 saves and the 20 turnovers forced by BU's defense kept it within striking distance all afternoon.
However, Robertshaw took issue with the way her team finished on loose balls and shots, which put more strain on their defense to hold down the Eagles.
"We need to finish plays better," Robertshaw said. "Offensively, I think we need to finish better. I know we shot under 50 percent in the BC game, so we need to up that shooting percentage."
It will be no easy task for the Terriers to right the ship offensively against a UMass Lowell (0-1) side that likes to pressure its opponents and create chaos. If BU is to escape the hawkish Lowell defense, Robertshaw believes they must be patient and ready to pounce on loose balls.
"Our attackers have to be calm and composed in their scoring looks," Robertshaw said. "In the first half of the Boston College game, we did that and we were highly successful. Second half, we got a little bit rattled. UMass Lowell, they're a team that, defensively, wants to rattle you. They're going to throw in some looks for zones, they might play man-to-man, but it's going to be more of a chaotic defense."
Defensively, Robertshaw knows that Meegan can hold her own in net, but it's about making her job easier and giving the Terrier offense more time with the ball. In order for that to happen, BU will need to limit the River Hawks' offensive chances.
"The biggest thing we want to do is limit the amount of scoring looks that they have," said Robertshaw. "In their game against Dartmouth [College], UMass Lowell kept coming back, they went on a run to end the game where they were trying to make a comeback and we need to limit that. For us, we need to play a strong defensive game, where our one-on-one's are good."