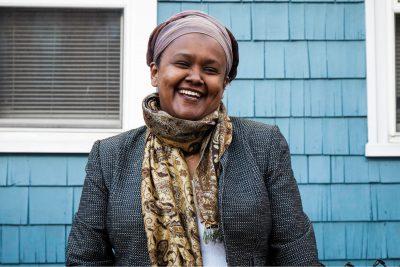 Somalian refugee and longtime Roxbury resident Deeqo Jibril has recently declared her candidacy for Boston City Councilor of District 7.
Jibril, who graduated in 2011 from Emerge Massachusetts, a program aimed at training Democratic women to run for office, attributes her decision to run to Tito Jackson, the current District 7 city councilor who is campaigning for the mayor seat.
"The seat became available," Jibril said. "[Jackson] is currently running for mayor and I said, 'Why not?' This is our time. Boston never had [anyone] like myself. It's time for justice and equality for all."
Jibril said her desire to become politically active first emerged when she found refuge in Roxbury, after fleeing from war-torn Somalia as a child.
"I am a longtime resident of Roxbury," Jibril said. "I came to Roxbury at the age of 12, from a civil war country in Somalia where my family came in as a refugee fleeing from war. Since then I was [an] advocate, I mobilized the community."
Jibril said she was inspired to run for office thanks to the democratic process and opportunities made available to Americans.
"I came from a country where we don't have a democracy," Jibril said. "Learning the voting process and just being empowered by how you can fight for democracy in this country, the same fight that my parents and other immigrants from Africa are fighting for [inspired me]."
If elected, Jibril said she would work to ensure equality for all communities and continue to dedicate her efforts to issues such as immigrant empowerment and affordable housing.
In the past, she has played a major role in creating a dialogue between local law enforcement and the Muslim community, Jibril said.
"I'm a coalition builder," Jibril said. "I brought the Muslim community and the law enforcement on the table and I started the first Somali-Muslim youth with Boston police dialogue and that [is] becoming a national [conversation] now."
As graduate of Emerge, Jibril praised the organization for their efforts to encourage the engagement of minority women in politics, and said there is a need for similar programs.
"They help minority women," Jibril said. "They train minority women to run for office. I love those programs. They're great. We need to have more programs that train women."
Jibril emphasized the importance of organizations like Emerge because she said women are not equally represented in politics despite progress toward equality.
"Women in general are the backbone of any society," Jibril said. "Coming from a country where gender bias exists, you would think a country like America would have more women politically active or elected."
In the light of Donald Trump's presidency, Jibril said she expects more people to get involved in politics as a result.
"I think the Donald Trump administration is going to make the whole country become active," Jibril said. "He's waking us up."
Ryanne Olsen, the executive director of Emerge, said the entire network has witnessed an increase in applications for the program, with the Massachusetts organization accepting an incoming class of 48, double the size of this past year's.
"Across the entire Emerge network, we saw an 87 percent increase in the number of applications," Olsen said. "Almost every state almost doubled. A lot of others of our sister organizations or organizations who do similar work … have also seen this surge. Women [are] wanting to step up and make sure that they have a voice at the table."
Olsen said Emerge offers three types of programs, including a boot camp, a six-month training program and two to four-hour workshops called "Women Organizing to Win Workshops."
"The whole concept is to recruit great women, provide them with the skills they need, the network they need and the confidence they need to run for office and win," Olsen said.
Olsen highlighted Jibril's various efforts to unite her community in solidarity with local officials.
"She's been really active in her community, building bridges between [the] Somali community and city government and the police department," Olsen said. "She's really trying to bring [her] community together."
Olsen said Jibril, an active alumnus, continues to be involved with the organization.
"She has been one of our alumni who's come back to sit on panels and help share her knowledge with upcoming women who want to run for office as well," Olsen said. "She just came back for an alumni panel a couple weekends ago."
Olsen said although Emerge cannot legally endorse Jibril, the organization is "really proud and excited that she's running for office."