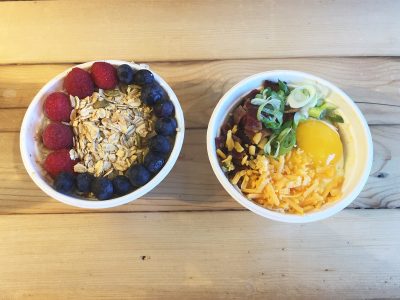 A cafe dedicated to serving oatmeal in a new way has recently opened up in Somerville's Davis Square. Named Oat Shop, this establishment, which serves savory and sweet oatmeal bowls made with steel-cut oats, officially opened up on Jan. 10.
Alan Donovan, founder of the oatmeal cafe chain, said he saw the need for healthier options in the breakfast market, and Oat Shop was his solution.
"I myself wanted something better, something that would actually keep me full, something that I could actually feel good about eating every day," Donovan said.
Donovan had the idea for Oat Shop while working in finance in Washington D.C. He had no background in culinary arts or any previous ambition to open an oatmeal shop.
"If you told me five years ago that I would start a restaurant, I would think that you were crazy," Donovan said. "I did always want to start something, [I] was interested in the entrepreneurial path and starting a business, but [Oat Shop] specifically wasn't super planned."
Donovan said he chose College Avenue in Somerville's Davis Square to open the new restaurant for its proximity to public transportation and prime location in Somerville's food scene.
"I wanted to be definitely somewhere with a lot of foot traffic, close to public transportation, and also a place that would be super receptive to new ideas," Donovan said. "Somerville quickly became the place that I wanted to locate my business."
In the opening month, Donovan said he noticed that the shop was attracting the weekend brunch crowd more than weekday commuters.
"It has definitely been steady during the week, but weekends have really been the busiest and seem to really be attracting that brunch crowd," Donovan said. "It's great, we just had to definitely adjust along the way and continue to build up the commuter base."
In addition to making the necessary business adjustments, he also introduced several specials to his menu over the first month, he said.
"We did a bowl called the 'Huevos Verdes' — [a] bowl with jalapeños and egg and avocado," Donovan said. "We did a special for Valentine's Day, and we did a Super Bowl special which was like a loaded nachos-type bowl."
The focus of Oat Shop is providing a new way to eat a familiar food, he said.
"Everybody's had oatmeal, it's not something that is this crazy thing that's unheard of," Donovan said. "We're taking something that's old and familiar and a comfort food and really bringing it to the modern day industry."
Donovan prepares the bowls with steel-cut oats in order to retain the hearty form of the grain over the unhealthier option of instant oatmeal.
"Generally, when people think of oatmeal, they're thinking of the instant oatmeal that you might get that you microwave, [it] comes in a packet loaded with sugar and whatever else," Donovan explained. "So what we use are the steel-cut oats, which are unprocessed so they're in their heartier form. They do take a lot longer to cook, which is why a lot of folks don't eat them all the time."
After tasting both a sweet and savory option from the shop, the heartiness of the oatmeal was instantly apparent.
The customer-favorite savory "Bacon and Eggs" bowl did not disappoint. Although it is at first odd to eat bacon, fried eggs, scallions and cheese atop oatmeal, this dish proved to be a pleasant surprise. The oatmeal did not overshadow the rest of the bowl and served as an excellent base for the other ingredients.
The popular sweet option "Nuts Over Berries" included fresh raspberries and blueberries over oatmeal and almond butter, with pumpkin seeds and granola sprinkled on top.
When sampling this option, the hearty taste of the oatmeal is very prominent. Although cooked in a coconut oil, the oatmeal does not taste sweet, and it is clear that there has been no added sugar. Though the "sweet" bowls may not be properly named, they are a good choice for those on a healthy diet who appreciate the plainer taste of oatmeal accompanied with fresh, flavorful fruit.
Each of these bowls appeared small at first, which may be concerning to customers after paying either $5.75 for a sweet bowl or $6.50 for a savory one. However, the bowls hold a lot more oatmeal than one would expect at first glance and are quite filling.
Customers should expect to wait at least a few minutes for their food, which is understandable as they are presented in a particular way and the steel-cut oats take longer to prepare than instant oatmeal. In keeping with the current trend of aesthetically pleasing food, the oat bowls are very presentational, with the fruit or protein placed just atop the oats.
Those who agree with Donovan that the breakfast market lacks healthy options and appreciate hip, presentational food will feel right at home at Oat Shop.