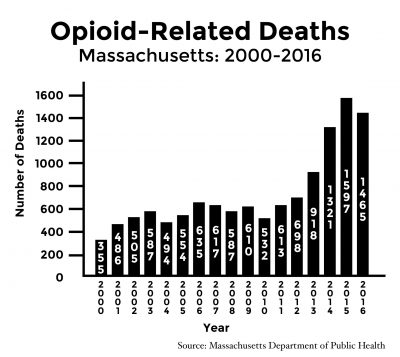 The number of opioid-related deaths has continued to rise among Massachusetts residents, with an estimated 1,979 fatalities occurring in the past year, according to a Massachusetts Department of Public Health report released Friday.
Approximately 220 more opioid-related deaths occurred in 2016 than in 2015, resulting in an estimated 13 to 24 percent increase. In addition, opioid-related Emergency Medical Services transports were reported in 80 percent of cities and towns in Massachusetts, according to a DPH press release.
The state has responded to the epidemic by focusing on prevention, intervention, treatment and recovery, the release stated.
In light of the growing crisis, the Baker-Polito Administration pledged in the release to continue their efforts in combating the issue through increasing options for treatment and providing further support for law enforcement.
"Our administration will continue our intense focus on fighting this epidemic by further increasing treatment options and expanding support for law enforcement and their efforts to arrest and convict drug traffickers who prey on vulnerable people, selling them more and more deadly and addictive substances," Massachusetts Gov. Charlie Baker said in the release.
Baker and his administration have allocated $145 million in funding for programs that help with "prevention and treatment of substance abuse disorders," according to the release.
The prevalence of the issue has prompted the state to dedicate resources to ensuring various forms of assistance for those directly involved in the opioid epidemic, according to the release. For instance, the number of support groups for opioid addiction has doubled across the state since 2015, and the state has distributed overdose rescue kits to first responders and family members of those who have addictions.
The state is also working to raise awareness on the pressing issue and educate the public by promoting public awareness campaigns, according to the release.
Matthew Hoffman, the program director for Boston Alcohol and Substance Abuse Programs, Inc., said issues regarding substance abuse have historically been a problem in Massachusetts.
"[Drug epidemics] go in waves," Hoffman said. "Every decade or so it increases to the point where people start paying attention. This time around with the Fentanyl, I think that's really the critical factor. It's so powerful and drug users aren't really used to overdosing so easily."
In fighting the opioid epidemic, Boston ASAP offers support groups for people who are taking opioids for medical needs, Hoffman said.
"[Opioids are] intended to be substitutes for using heroin and for injecting drugs," Hoffman said. "If they're dispensed by private physicians … there really isn't any treatment involved, so we're trying to step into that gap and make sure that this important treatment is handled well for people who are taking the substitute drugs."
Hoffman said the organization attempts to encourage affected individuals to seek out treatment by contacting physicians directly.
"By contacting the Suboxone doctors and telling them that there's help available, [we raise awareness]," Hoffman said. "Other groups have more to do with getting the word out about treatment availability. We're direct treatment."
Hoffman said the state is finally moving in the right direction in terms of treatment and funding for the opioid crisis.
"One of the big factors is that we have a governor who is so involved," Hoffman said. "That definitely helps in recovering from this epidemic."
Several Boston residents expressed concern with the continuing opioid problem, and said they appreciate the government stepping in to tackle the issue.
Daniel Miller, 43, of the South End, said he is pleased that the government is putting forth preventive measures and treatment plans.
"I've known people who have had this problem, and it's hard seeing them go down that road," Miller said. "I'm glad to hear that the government is doing things to prevent this from happening and making sure they're also treating their people."
Nicole Brown, 38, of Fenway, said she questions why the amount of opioid-related deaths continue to rise, and said the local government should focus on handling the root of the issue first.
"I'm curious as to why the rates are going up if we're supposedly spending so much money on it," Brown said. "I don't know if it would be better to put more money toward the police departments to actually stop the root of the problem or for treatment centers and whatnot, but I think starting with the root of the issue really helps."
James O'Connor, 46, of Back Bay, said Baker's devotion to combatting the opioid epidemic is reassuring to residents.
"If the governor is allocating that much money for treatments and prevention, it just goes to show how much he cares about the commonwealth," Connor said. "I think it gives everyone a sense of hope."