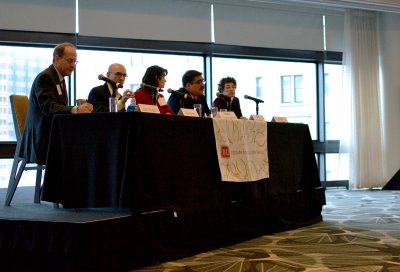 Four panelists spanning from specialties in climate science to journalism discussed the future of the two fields meshing at the "Science and Environment: A Journalist's Perspective" event on Thursday at the Westin Copley Hotel. It was sponsored by Boston University's Institute for Sustainable Energy.
Organized by Peter Fox-Penner, director of the Institute for Sustainable Energy, and Tess Kohanski, assistant director of operations at the ISE, the panel discussion was also sponsored by the Union of Concerned Scientists as a side event for the American Association for the Advancement of Science Annual Meeting held at Hynes Convention Center this weekend.
"The goal of the institute is to facilitate the transition to a clean energy economy," Kohanski said. "Climate change is very much a real thing and if we don't mitigate carbon emissions … then our planet is headed in a very bad direction."
Moderated by John Rogers, a senior energy analyst at the Union of Concerned Scientists, the discussion began with each panelist explaining why they are pertinent to the conversation and their background in their respective fields.
As panelist Joseph Romm, a senior fellow at the Center for American Progress, finished his remarks about the needs for improvement in journalism, panelist Seth Borenstein refuted Romm's claims, which then led to a debate between the two. Borenstein, a Boston University alum, is currently an international science writer for the Associated Press.
"Anyone who thinks that op-ed pages are different from news in the eyes of the reader are deluding themselves," Romm said in the debate.
As the conversation shifted from how climate change is not covered to the faults in how it is covered, Borenstein maintained his position on science journalism.
"I don't have to deal with politics — physics just is," Borenstein said.
Naomi Oreskes, a professor specializing in the history of science at Harvard University, reflected on the unexpected and early debate between Borenstein and Romm.
"We're all on the same side here," she said. "When it comes to handling this and what to do about it, it's very difficult."
She continued to speak about the issue of journalists' language when describing those who don't support climate change.
"I don't use the word 'denier' when speaking in public," Oreskes said. "It's not easy to characterize because it's a deliberately slippery thing, but it's real, and it's noxious and we have to figure out how to talk about it."
The discussion then shifted to focus on how to get people engaged in number-heavy science and where to find common ground.
"No one ever made a decision over a number, it's over a story," Romm said.
Panelist Meera Subramanian, a Knight Science Journalism Fellow at the Massachusetts Institute of Technology, commented on the importance of stories by reading a passage from her book, "A River Runs Again," a book about a woman and a cook stove design.
"There is this whole host for complicated human factors that are at play [in climate change]," Subramanian said. "Stories are a way that we bridge chasms between humans and media stream."
The centralizing theme of the discussion was the recent election of President Donald Trump. With panelists examining the future of politics in the media, Trump was considered in every question, mainly discussing the disinformation media, or "fake news."
Borenstein expressed contempt for the term, saying it's "fake information and fake reporting, but when you call it fake news, you are giving them credence. You should be calling it just fake."
As the panel concluded, the panelists were in agreement that a call to action was necessary in both fields of science and journalism. The panelists said they urged people to help journalists with tips and subscriptions, to not fall victim to disinformation campaigns and to make facts the most important.
"I think we heard a call to arms for people who do value democracy, free speech and science," Fox-Penner said. "We need to reach out to those who don't share our beliefs, whether it's right in the BU community or other states and even other countries."
Fox-Penner said he thinks the panel "only scratched the surface" of the issues that need to be deliberated, ranging from climate science to journalism to disinformation campaigns.
Qiyuan Fu, a senior in the College of Arts and Sciences who attended the panel, reflected on the future of climate science and journalism.
"It was very inspirational," Fu said, "in terms of what we can do next and what we can learn from this election."