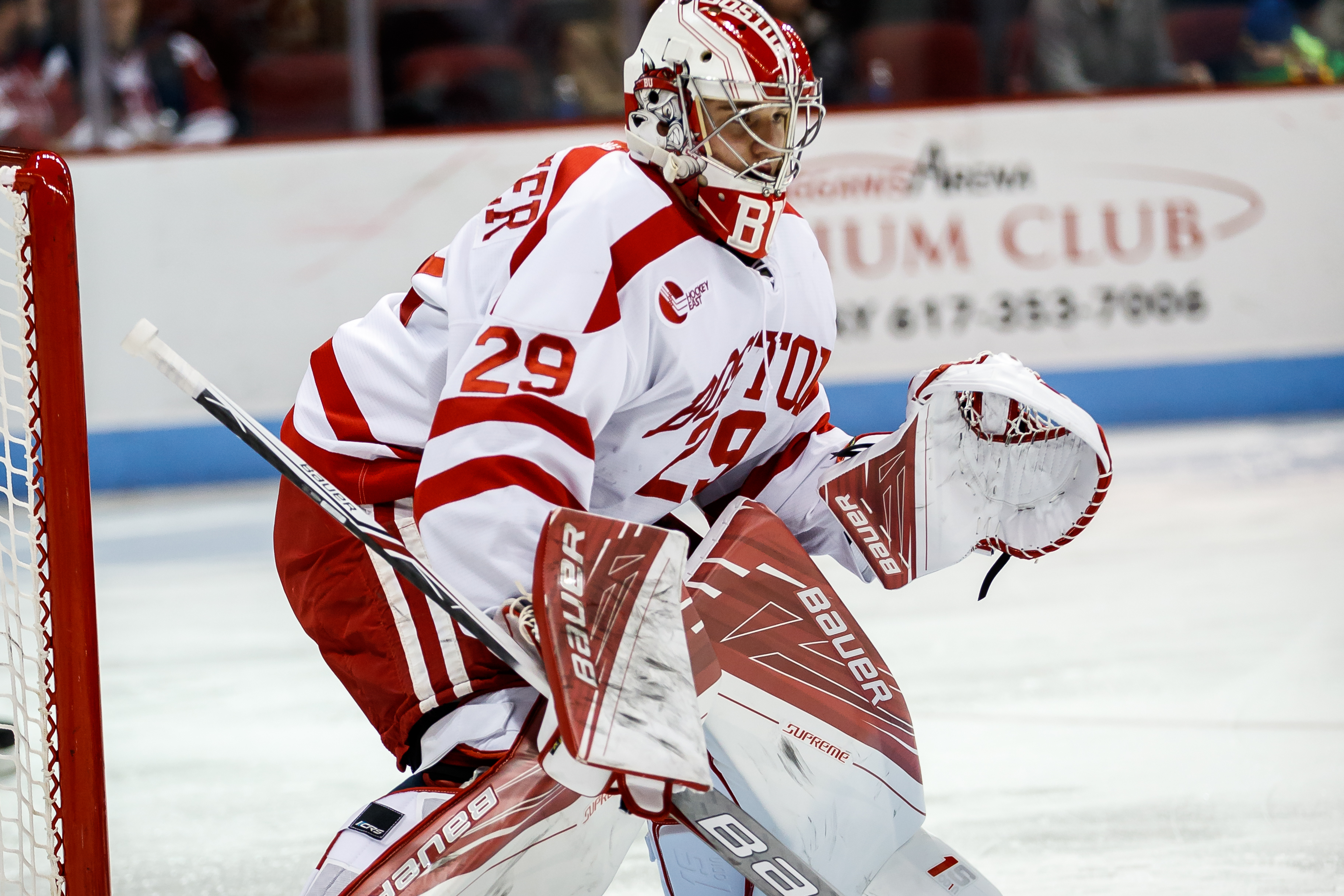 Heading into its final weekend of regular season hockey, the No. 6 Boston University hockey team knew it could clinch a first seed playoff spot with two wins.
With the Hockey East race being so tight, the four points on the line this weekend are just as essential to its opponent, the No. 13 University of Notre Dame.
The Fighting Irish (19-9-5, 12-5-4 Hockey East) topped the Terriers (20-10-3, 12-6-3 Hockey East), 3-1, on Friday night, earning two precious points to grant them second place in the league at the time the game ended.
BU head coach David Quinn said despite the loss, he was happy with many aspects of his teams play, including goaltending.
"There's a lot to love about our game tonight," Quinn said. "Two great goalies. Their guy made some big saves. Our guy made some big saves. The difference in the game was I thought we gave them two gifts: the goals. You just can't do that in a game of this magnitude."
To be more specific, you just can't do that against a goalie as skilled as Cal Petersen. The junior is tied for 10th nationally alongside BU's Jake Oettinger with a .926 save percentage.
Oettinger, who gave up 16 goals in his last four games, could have been in search of a confidence builder going into the game against the Fighting Irish. Quinn said that despite letting up three goals, Oettinger is still mentally sound. He said he hopes the freshman goalie isn't holding the responsibility on his shoulders.
"I don't think so by the way he played tonight," Quinn said. "I think [Oettinger] is a pretty tough kid mentally."
Unlike Oettinger, and many other freshman starting goalies in Hockey East, Petersen has a few years of experience under his belt. He finished last season with a .927 save percentage. The Iowa-born net minder is also captain of his team and his steady play and leadership was evident throughout the game. Despite multiple heavy traffic situations in front of the net, especially towards the end of the game, Petersen remained calm.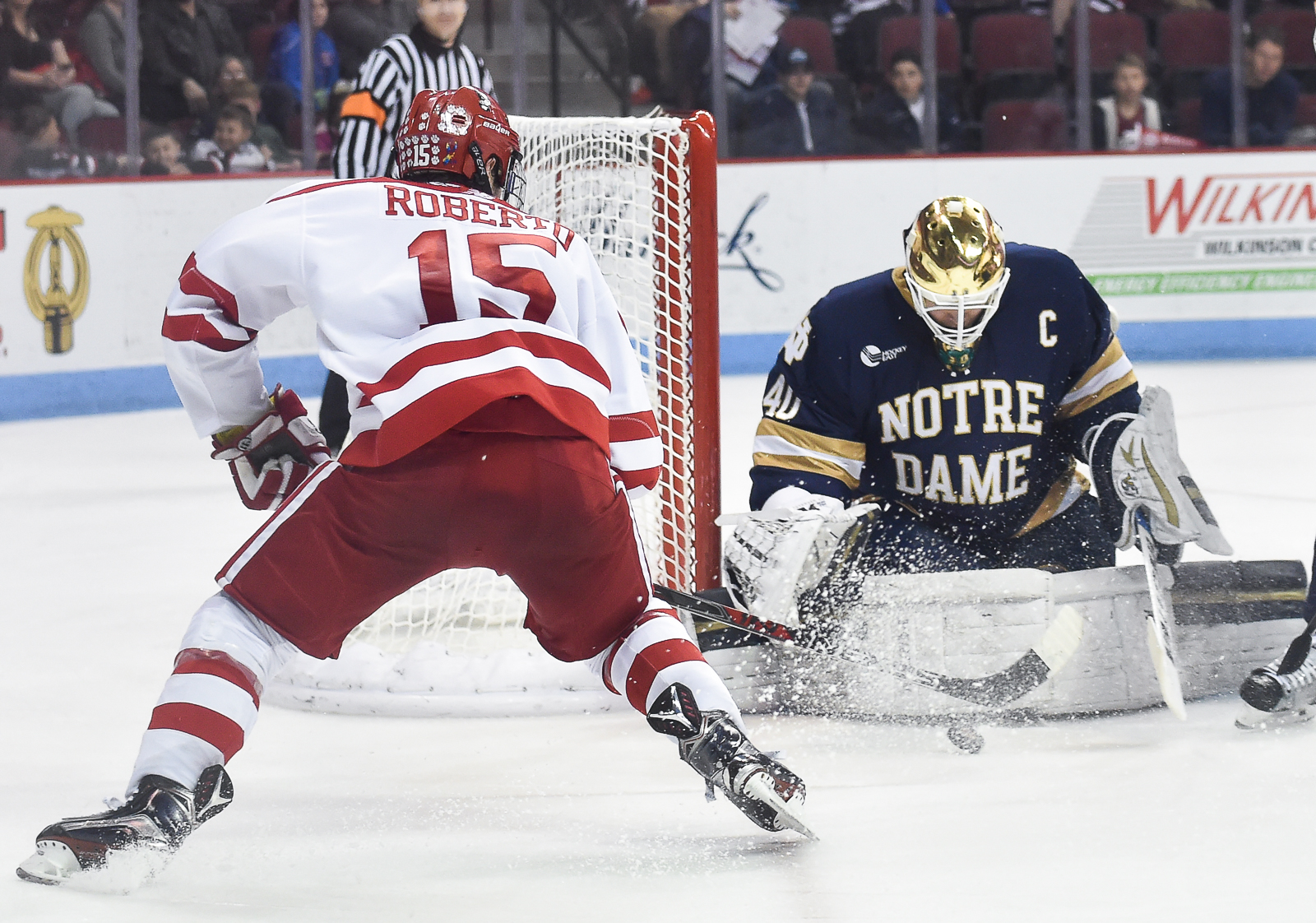 Quinn was impressed, but not necessarily surprised, by Petersen's play.
"Petersen's had our number for three years," Quinn said. "Two years ago we were here and I think we put fifty shots on him both nights and we get a point. Last year we went out there and played really well in the first game and won three to two. The second night they beat us one to nothing."
In the first of two regular-season matches between the two teams this season, Petersen faced 37 shots, 23 being in the final frame. Only let one slip by him the whole night.
Quinn said Petersen's dominance in net is supported by his speed and strength.
"He doesn't waste a lot of movement," Quinn said. "He's just a great goalie. He's been a great goalie for a long time."
Terrier captain Doyle Somerby said Petersen is "unbelievable" as a goalie, especially against BU.
"We just know we have to test him a lot, but he's the real deal," Somerby said. "He makes a lot of really nice saves. The last 10 minutes I don't know how he saw some of the shots he made saves on."
The senior defenseman also said Petersen wasn't the only impressive one between the pipes. Oettinger also had a noteworthy performance, making 23 saves on the night. While he may have allowed 19 goals in the past five games, his 2.07 goals against average is still eighth in the nation.
"I think you saw two of the best goalies in the country face off," Somerby said. "[Oettinger] played well. He made some really nice saves. Unfortunately, we left him out to dry twice but he's always been really good for us."