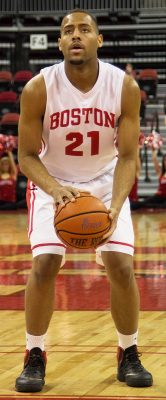 The Boston University men's basketball team will look to end the regular season on a high note when it visits the College of the Holy Cross on Saturday afternoon.
Saturday's game is more than just a regular season finale and a battle for the Turnpike Trophy. It has heavy playoff implications for both teams. The Terriers (16-13, 11-6 Patriot League) are currently tied for second place in the Patriot League with Lehigh University and will need a win to ensure they stay in second. If both teams win or lose, BU will still be second from holding the tiebreaker.
However, if Lehigh (17-11, 11-6 Patriot League) defeats the United States Military Academy and BU falls to Holy Cross (15-15, 9-8 Patriot League), BU will fall to third place.
The Terriers were in prime position to lock up the second seed, but they lost to Patriot League regular season champion Bucknell University on Sunday, losing its chance at first place, and Army (12-17, 6-11 Patriot League) on Wednesday.
BU head coach Joe Jones said his team will have to defend better on Saturday to snap its skid.
"We have to regroup defensively," Jones said. "We haven't been making any plays on defense, and that's not who we are. When we were winning, we were active in the zone and making plays in the press. We just allowed two teams to shoot 50 percent and that hadn't happened all year."
On the other end, the Crusaders sit at the fifth spot in the Patriot League, and if the standings hold, they will be on the road in the tournament quarterfinals. They sit one game behind the United States Naval Academy for fourth place, so a win and a Navy (15-14, 10-7 Patriot League) loss at Bucknell (22-8, 14-3 Patriot League) would give Holy Cross a first-round home game.
The Crusaders are led by seniors Malachi Alexander and Robert Champion. The two average 13.5 and 13 points per game, respectively, good for top 15 in the conference. However, in the two teams' last meeting, a 61-55 BU win on Dec. 30, Alexander and Champion were limited to just 26 points on 9-28 shooting combined.
In order to hold the duo in check again, Jones said his team has to repeat what it did on Dec. 30.
"In that game, we were locked in," Jones said. "It was the first game of the conference schedule, so our intensity was great. We also knew how to go man-to-man against those guys, so we were able to dictate what they could do on offense, and that's something that we've been doing all year that's gotten us this far."
One player who could have a big impact on defense is junior guard Cedric Hankerson. The Miami, Florida native has been one of the best defensive wings in the Patriot League this season, as he ranks second in the conference in steals.
Offensively, Hankerson is still finding his form in his first season back after injuring a knee that previously underwent ACL surgery. Jones would like to see his starting guard start driving more on offense.
"Ced has been terrific," Jones said. "He's doing everything we're asking him to do, but he has the ability to put the ball on the floor and take it to the rim if he wants. When he has that chance, I'd like to see him do that more often, but when we win, it's a collective effort, not just one or two guys."
It is important for BU to end the regular season on a high note and enter the Patriot League Tournament with momentum.
"We just need to play better again because it's crucial to end the regular season with momentum," Jones said. "And we need to lock up that [number] two seed because it makes a big difference if we can host two rather than one playoff game."