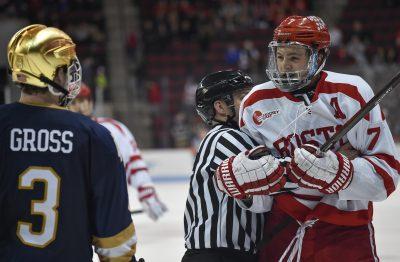 The No. 6 Boston University men's hockey team is now winless the last four times it has hosted No. 13 University of Notre Dame at Agganis Arena.
On Friday night, the Terriers fell, 3-1, to the Fighting Irish and failed to make up ground atop the Hockey East standings. The clash was filled with controversy, as the referees reviewed two goals and routinely whistled plays dead when the puck wandered towards Cal Petersen's goal.
"I'm glad you brought that up, a very good observation," said BU (20-10-3, 12-6-3 Hockey East) head coach David Quinn of the referees. "Quick whistles were the theme of the third period I thought, but I don't want to discredit anything Notre Dame did."
While BU peppered Petersen with 38 shots, forwards Jake Evans and Anders Bjork were the stars of the night.
Evans opened the scoring 9:19 into the first period off a broken faceoff in BU's defensive zone. He then added an insurance tally with 2:35 left in the game, sealing the 3-1 scoreline courtesy of a rinkwide feed from Bjork, a Boston Bruins draft pick.
"Chemistry sometimes happens in strange ways, and coaches can't take credit for it," said Notre Dame (19-9-5, 12-5-4 Hockey East) head coach Jeff Jackson of Evans and Bjork's chemistry.
BU's best spell came in the third when it forced Petersen into 23 saves, but it couldn't muster a comeback. It did, however, solve the junior as the first period wound down.
The Terriers made it a 1-1 game with 3:21 left in the frame, as freshman forward Patrick Harper tipped home a wrister from forward Clayton Keller, his classmate.
Come the second period, a physical stalemate ensued, only for the Fighting Irish to inch ahead with 1:27 left. Senior Ben Ostlie potted past freshman goaltender Jake Oettinher, but the goal was initially reversed.
Upon review, the refs reversed the call, and Quinn voiced displeasure at the decision.
"I didn't even let them tell me what the explanation was because it wasn't going to make a difference," Quinn said.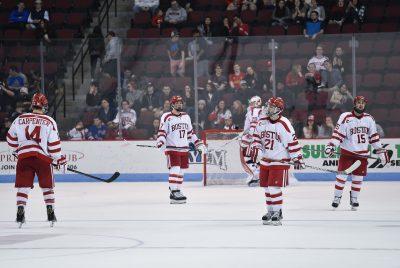 Trailing 2-1, the Terriers were handed a lifeline early in the third frame courtesy of back-to-back power-play chances.
They, however, couldn't create any grade-A chances and only recorded three shots on Petersen across the four minutes.
"Our power play, we're very, very immature on our power play," Quinn said. "We have great players on it that are continuing to learn how to run a power play.
"I know you may look at the names and the talent, I use the [University of Massachusetts] Lowell as an example," Quinn added. "They have guys that maybe aren't highly heralded, but boy they just get it, move it, shoot it, get it, move it, shoot it, retrieve it. That's what a power play is. We just haven't grasped that yet."
Despite the loss, Quinn was relatively pleased with how his team played, labeling Notre Dame's latter two goals as the products of breakdowns.
On each tally, sophomore defenseman Charlie McAvoy was caught out of position and Oettinger, who finished with 23 saves, was left facing a 1-on-1 chance. Doyle Somerby, BU's captain and a senior defenseman, said the Terriers can't leave Oettinger "out to dry" like that in future contests.
Looking ahead, BU is still in contention for the regular-season crown in Hockey East. Quinn suggested, however, that securing that crown isn't BU's focus.
Rather, it's continuing to return to the form that inspired an eight-game winning streak across December and January. He said if BU can tighten up on the back end, the results will fall into place.
Somerby, who Quinn said played his best game of the year upon shifting back onto the blueline, agreed.
"You want to finish with a regular-season championship, but at the same time you have to realize they're vying for one, too," the Marblehead native said. "It was a really good hockey game. It was up and down and a lot of chances. For us, we have to take away the positives. We liked how we played the game and liked the chances that we had."