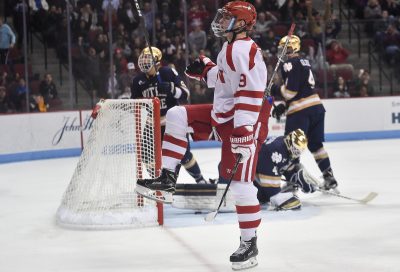 When the stakes are highest, Kieffer Bellows tends to rise to the occasion.
Within the last six weeks, the 18-year-old winger scored twice in the gold-medal game of the World Junior Championships and once in the Beanpot Tournament final.
Then, with a share of the Hockey East regular-season title on the line Saturday night against No. 13 University of Notre Dame, the freshman stepped up to the plate again. He chipped in two points during the No. 6 Boston University men's hockey team's 4-1 win over the Fighting Irish, granting them the two-seed in the conference playoffs.
"He's playing well, he's playing hard, he's skating, he's physical," said BU (21-10-3, 13-6-3 Hockey East) head coach David Quinn. "He's got great stick skills. People focus on his shooting, but he's got great vision. He makes subtle plays."
Trailing 1-0, the New York Islanders draft pick buried a rebound past goaltender Cal Petersen 9:21 into the second period to draw the Terriers level. Bellows didn't stop there, though.
He registered an assist on junior defenseman John MacLeod's go-ahead goal with 3:30 left in the second frame. Perhaps more importantly, Bellows screened Petersen, letting the Dracut native's cannon of a slapshot find the corner.
"I had some ups and downs early in the season, but I feel like I've really hit my stride right now," Bellows said. "I couldn't have done it without my coaches, my teammates, my strength and conditioning coaches, Kyle [Czech] and Ben Prentiss. All those people helped me so much and I feel like that's why I'm really hitting my stride towards the end of the season."
While Bellows name stained the box score, much credit, Quinn has said in recent weeks, goes to his new linemates.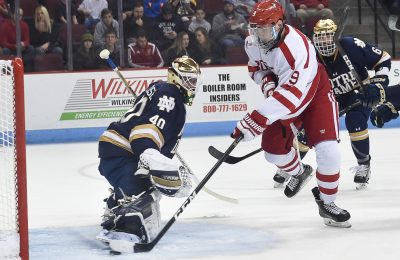 The Edina, Minnesota native has bounced up and down the line chart all throughout the 2016-17 season, only to settle on BU's newly-formed third line. He's centered by sophomore Ryan Cloonan and flanked by junior Chase Phelps on the wing.
As part of that trio, Bellows registered four shots against Notre Dame (19-10-5, 12-6-4 Hockey East), and often threw his 6-foot-1, 200-pound frame around.
"He's stepped up his game," said freshman forward Clayton Keller, who scored two goals against the Fighting Irish. "He's figured out how he has to play in college hockey and he's been one of our best players the last couple weeks. He's skating, he's hitting, he's doing everything right."
Rewind several months, however, and Bellows's rookie campaign on Commonwealth Avenue was off to a rocky start.
He registered six points through BU's first 15 games, but also amassed 34 penalty minutes and a minus-8 rating during that stretch. Furthermore, the U.S. National Team Development Program product has been a healthy scratch from four games.
Now, conversely, Bellows has five points in his last five games.
"College hockey is hard," Quinn said. "I don't care what round you get drafted in, I don't care how many points you got before you get here. It's hard. Sometimes it takes good players a little longer than others to adjust.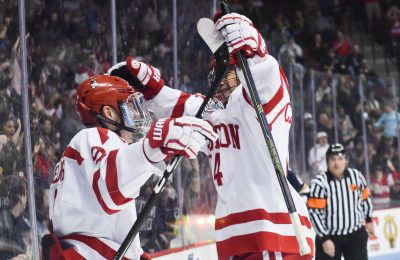 "We've said all along that we're going to need him, and I am not surprised with how he's contributing," Quinn added. "He's been an unbelievable kid, he's handled some tough situations with incredible maturity. I couldn't be happier for him."
Looking down the road, the Terriers have nearly two weeks off until their next contest, and a confident Bellows, Quinn said, does them wonders.
They can host a slew of opponents in the quarterfinal round of the Hockey East Tournament, and Bellows is slowly showing why he was such a highly-touted recruit. The challenge before him, therefore, is if he can continue building on his showing against Notre Dame.
"It's just keep building off this personally, and our team needs to keep doing what we're doing," Bellows said. "We haven't hit our full potential yet, but we're getting close."