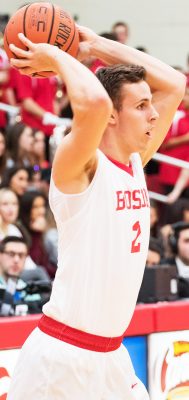 The Boston University men's basketball team earned a hard-fought 71-68 overtime win in its final game of the regular season against the College of Holy Cross on Saturday.
The Terriers' (17-13, 12-6 Patriot League) team play was the key to their victory against the Crusaders (15-16, 9-9 Patriot League). Four Terriers finished with double digits, cementing their team's spot as the second seed in the Patriot League Tournament.
BU was down by nine at the half, but battled back and played hard until the final buzzer of overtime.
BU head coach Joe Jones was pleased with the way his team stepped up when it mattered most.
"It was a great team win," Jones said. "It was a quality win. I loved it because we really had to grind it out on the road. We talked about making plays late."
Freshman forward Tyler Scanlon, who finished with a team-high 19 points, was crucial late in the game, hitting back-to-back baskets to start the scoring in overtime. Scanlon's shooting and ability to step into his starting role as a first-year player have been impressive, but Jones is not surprised with the freshman's development.
"Tyler's been pretty consistent in terms of his play as a freshman," Jones said. "He was able to come in and help right away, and we thought that when we recruited him. He doesn't get sped up. He doesn't get flustered. He's got a nice confidence level. It was good to see him really contribute in this one."
Holy Cross played a 1-3-1 zone, enabling the Terriers to swing the ball to their shooters. For the game, the Terriers shot 47.8 percent from the field and 46.7 percent from 3-point range. Scanlon, junior guard Cedric Hankerson, senior forward Justin Alston and senior guard Eric Fanning all scored in double digits on Saturday.
"If the ball moves and we're able to get the looks that we should be getting, we have a number of guys that can hurt you," Jones said. "Tonight we were able to create some nice opportunities against their zone defense."
Jones emphasized the importance of an evenly distributed scoring output.
"I think if you look at the games we've won, when we can get four guys in double figures that's kind of been our key, and then we're a tough team to beat," Jones said. "There have been times when we've stood around and watched Eric Fanning. Tonight the ball moved a lot better and we were able to get Cedric and Justin and Tyler involved in the game and I think that's going to be very important if we're going to continue to be successful."
Holy Cross was led by senior Robert Champion, who led all scorers with 27 points. The Crusaders only shot 38.6 percent from the field, but Champion's effort was almost enough to single-handedly down BU.
Being the final game of the regular season, the Terriers wanted to have momentum going into the playoffs. They will enter as the No. 2 seed in the conference behind Bucknell University. The win against the Crusaders gives Jones confidence for the quarterfinal game of the Patriot League Playoffs.
"It's all about momentum," Jones said. "It's the way we won the game, having a sold out crowd after being down double figures in the first half and battling back. What I took away most is how we got the win."
The Terriers will get right back into action when they host the quarterfinal of the Patriot League Tournament on March 2 at Case Gym.
"It was just a great win, and I think something we can build off of going into next week," Jones said. "We got three days to prepare for a game, and we got to be ready no matter who we're playing."