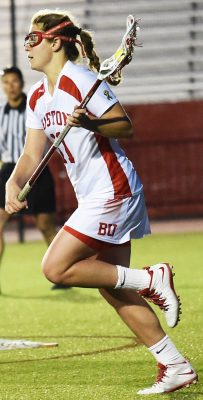 Despite pulling out the come-from-behind 12-7 victory Saturday afternoon, the Boston University women's lacrosse team found itself trailing against University of Massachusetts Lowell's three-year-old women's lacrosse program.
The Terriers (1-1) had the advantage in shots (17-11), shots on goal (13-11), ground balls (9-7) and free position shots (7-2) against the River Hawks (0-2). Yet by halftime, the Terriers found themselves trailing 6-5.
The reason behind BU's deficit? The play of Lowell's returning attackers Jane Dudley and Austin Trasatti.
The duo each scored two goals in the half, and with help from midfielders Kaylyn DiModugno and Kendyl Finelli (one goal apiece), were looking to defeat the Terriers in their home opener.
"I think the first half, [the team] didn't really execute, and so I just talked to them like, 'I know this is not how we wanted it to be going,'" said BU head coach Liz Robertshaw. "Settle down, and focus on our game plans."
BU's tempo and attitude, which Robertshaw said needed to be improved, looked markedly better just 36 seconds into the second half.
Sophomore midfielder Kelly Mathews, who was coming off a freshman year campaign where she registered 16 goals (fourth-highest on the team) and 21 points, propelled the Terriers' comeback.
A foul by Finelli in River Hawks territory gave Mathews a free-position opportunity to tie the game.
The Reston, Virginia native slotted home the chance, and tied the game at 6-6 for the first time since the 13:36 mark in the first half, when junior attacker Avery Donahoe knotted the contest at 3-3.
Mathews' goal helped break open the contest, as her conversion was followed by scores from senior attacker Elisabeth Jayne and Donahoe.
The Terriers three goals out of halftime all came from returning players, who were inspired by the seniors to perform better after such an empty first half of play.
According to Robertshaw, the seniors saw causing turnovers and capitalizing on turnovers as the keys to shifting momentum back to their side.
"I think [the seniors] got mad at how they were playing" Robertshaw said. "It wasn't the way they wanted the game to go. Their first game on home turf, of the season. I think they were like, 'What do we need to do?'"
"We need to get interceptions, we'll get an interception. We need to cause turnovers like Talley Perkins did … We need to score goals, like [Elisabeth] Jayne. And I think each one of them did their job very well."
The story of Jayne as the team's leading scorer through two games into the season is one of growth and development.
The Merrimac native, who going into her senior season had played in just six contests without registering a single goal, has three goals thus far, including a pair on Saturday.
Jayne's classmate attacker Taylor Hardison also cracked the scorer's sheet for the first time this season, as she scored the second of BU's four consecutive goals to end Lowell's bleak chances at coming back.
In addition to Jayne, BU ended the contest with goals from Mathews, junior Mickenzie Larivee and Donahoe.
The Terriers also saw goals from sophomore midfielder Kaitlin Belval, junior midfielder Sarah Andersen and freshman attacker Kailey Conry, who capped off the day by notching her first career goal.
All but one of the Terriers' goals came courtesy of an abundance of veterans, who have assisted Conry and the freshman class in preparing them for what is to come this season.
"I think [the returning players] lead by example" Robertshaw said. "They show [the freshmen] the work ethic. They show what it's going to take to survive at this level and to thrive."