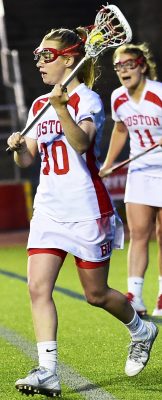 In its home opener of 2017, the Boston University women's lacrosse team found an offensive rhythm in the second half of the game against University of Massachusetts Lowell that powered it to a 12-7 win.
The Terriers (1-1) came out hot in the first few minutes of the game, amassing a 2-0 lead before UMass Lowell (1-1) was able to record a shot on goal.
The first goal for BU came 56 seconds into the game from junior midfielder Sarah Andersen. The Coronado, California native also picked up an assist later in the game, recording two points on the day. Andersen added to her season total after she scored one goal against Boston College in the season opener.
BU's second goal came just minutes later from sophomore midfielder Kaitlin Belval. The Needham native started her second career game and picked up her first goal of the season.
Lowell then went on to score five of the next six goals to take a 5-3 lead. BU head coach Liz Robertshaw did not panic at halftime, resorting to tactical improvements to help her team regain the lead.
"I just reminded them of our game plan," Robertshaw said. "We know this isn't how we wanted [the first half] to be going, settle down, and focus on what our game plan is."
Trailing 6-5 at halftime, BU scored the first three goals of the second half to jump out to an 8-6 lead. Goals were scored by sophomore midfielder Kelly Mathews, senior attacker Elisabeth Jayne and junior attacker Avery Donahoe. Donahoe recorded two goals on the day as well as two assists, raising her season total to five goals and three assists, giving her a team-high eight points through two games.
Robertshaw noted Donahoe's offseason work ethic, which allowed her to come into this season as a prolific offensive threat.
"I just love the attitude she came back for her junior year with," Robertshaw said. " She came back fit, she came back ready to go, she looked confident, she's willing to take challenges to the net, and I feel like this is what we talked about at the end of last year, and I couldn't be happier with how she's playing."
BU opened up its largest lead with 8:32 left in the second half, leading 12-7.
The lone bright spot for the River Hawks came from junior goalkeeper Courtney Barrett. The South Burlington, Vermont native did everything she could to keep her team in the game, recording a 55.6 percent save percentage on 27 shots, well above her career save percentage of 41.8 percent.
As BU began to pull away, freshman Kailey Conry recorded her first collegiate goal to further extend the lead. Conry played in the opener against Boston College but did not record any points.
Robertshaw praised the senior class for their work ethic in helping develop the strong freshman class that BU boasts.
"They lead by example, they show what it's going to take to survive at this level and to thrive," Robertshaw said. "If you want to be a defender on this team, how do you have to play? [The seniors] show it and it's been great."