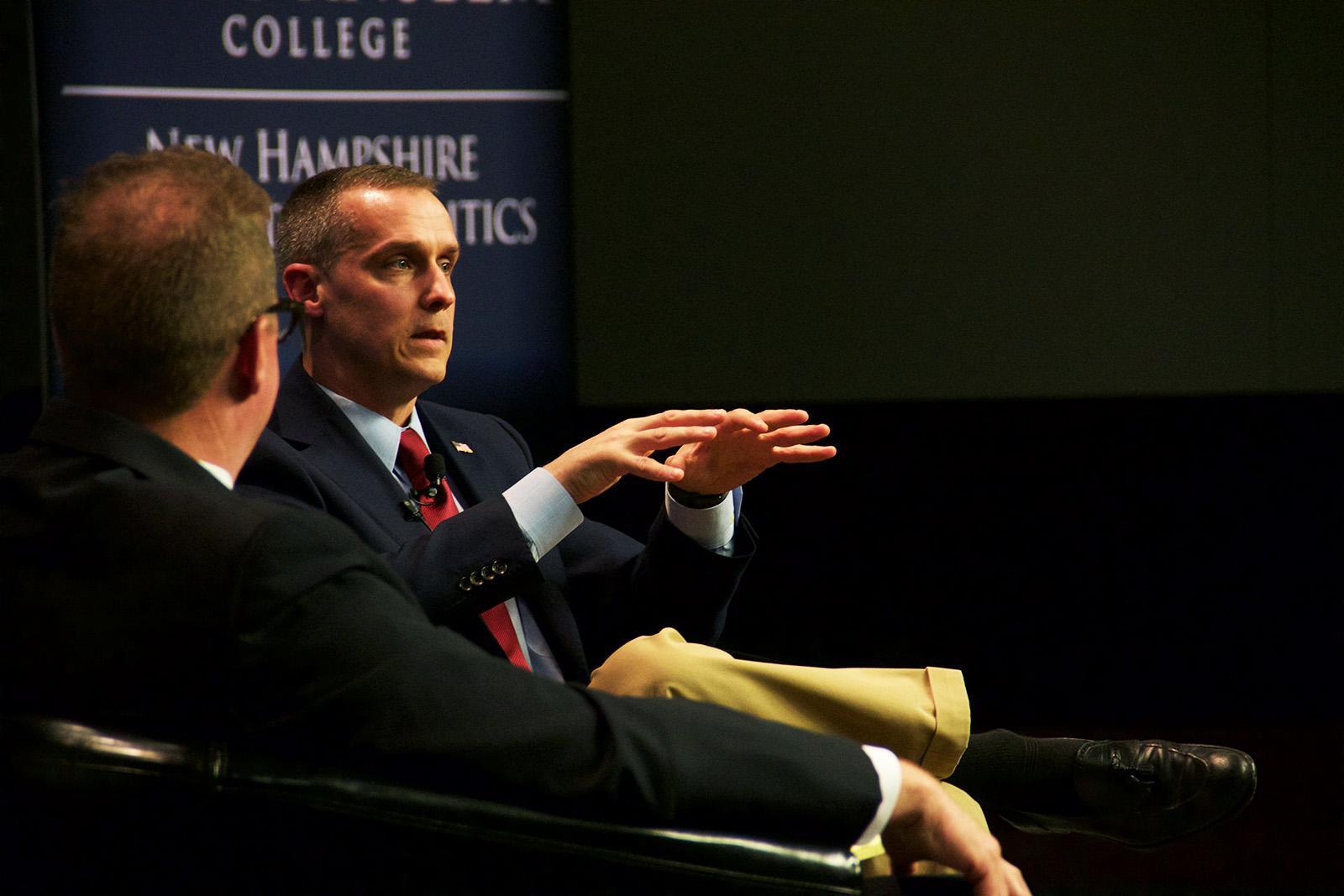 Manchester N.H. — Approximately 100 people gathered at the New Hampshire Institute of Politics and Political Library at Saint Anselm College Monday evening to hear a moderated discussion with Corey Lewandowski, former campaign manager for President Donald Trump.
Moderator Neil Levesque, the executive director of the NHIOP, opened his discussion with Lewandowski by addressing the crowd, stressing the need for respectful conversation.
"This is a place where we really celebrate civil discourse," Levesque said of the NHIOP.
After welcoming Lewandowski to the stage and taking a seat in one of two leather chairs, Levesque described a young Lewandowski, who grew up in Lowell, as "a kid from the wrong side of the tracks."
Lewandowski agreed, saying as a child, he never imagined himself running a presidential campaign. Lewandowski left the Trump campaign in June, and was replaced by Kellyanne Conway.
The conversation shifted almost immediately to Trump, and Lewandowski painted a more personal picture of Trump, describing the president as a friendly and caring leader.
"It was so surreal," Lewandowski said of his first meeting with Trump. "President Trump is so magnanimous, so good when you go to meet him."
Lewandowski said Trump's determination throughout the campaign translated to the way Trump treats his White House staff. Lewandowski explained Trump's reputation for losing his temper was because he has high expectations for his administration.
"When Donald Trump is angry about something, it's because traditionally, the staff has failed to deliver on what his expectations were," Lewandowski said. "He wasn't angry after losing or coming in second place, he was disappointed."
As someone who also has a reputation for driving a tight ship, Lewandowski said he is similar to Trump because he also has high expectations of himself and does not tolerate complaining or laziness from his subordinates.
"When [Trump] yelled at me or was more disappointed in me, in the campaign, I took it very personally," Lewandowski said. "We always did more with less because we pushed people their hardest."
Lewandowski also expressed support for several members of the White House administration, including Trump's chief strategist Stephen Bannon, who has been the subject of much controversy.
"Steve is someone who is exceptionally brilliant," Lewandowski said. "Most people don't give him the credit he deserves."
Lewandowski also spoke highly of Vice President Mike Pence, praising him for his moral fiber and ability to "interpret" Trump.
"Mike Pence is a good, honorable man, sometimes too good to be in Washington," Lewandowski said. "He and the president have an unbelievably strong relationship."
Echoing Trump's dislike of media outlets, Lewandowski described the anger he feels when he sees the president described as a racist or a bigot.
"It bothers me because they've never done their due diligence, the mainstream media, to actually go and understand Donald Trump," Lewandowski said. "The media has been pejorative and sometimes very unfair to the president."
Lewandowski said that Trump has been accessible to the media, referencing an exchange he witnessed between Trump and a New York Times reporter when the reporter called Lewandowski to ask him to relay a question to Trump during the campaign. Trump took the phone and answered himself, Lewandowski said.
Levesque concluded the discussion by inviting audience members to address questions to Lewandowski.
Lewandowski said the relationship between Trump and the media can only be mended when the press commits to reporting honestly, reiterating the idea that reporters are unfair when covering the president.
"[Trump] has a good relationship with a number of the members of the media, and the reason I think he gets frustrated is he knows these people, and he doesn't think that they treat him fairly," Lewandowski said in response to a question from The Daily Free Press.
When asked about Trump's travel ban, Lewandowski criticized the United States Court of Appeals for the Ninth Circuit, saying the judges were wrong to suspend the executive order.
"I'm not here to make disparaging comments about the Ninth Circuit, although I should," Lewandowski said. "The Ninth Circuit has stepped in and said that the president does not have the constitutional authority to limit people's visas coming in from countries that are potential terrorists. That is 100 percent factually inaccurate."
Lewandowski said he suspects Trump will issue a new executive order by the end of this week further limiting "people who want to cause us harm" from traveling into the country.
Roseanne Ronnan, 70, of Manchester, New Hampshire, said before the discussion that she came to see Lewandowski because she was a fan of the events the NHIOP hosts, not of Lewandowski himself.
"He's a piece of s–t," she said. "He's dishonest, as is the person that he helped get elected."
Others in the audience, such as Andrew Shue, 21, a junior at Saint Anselm who volunteers for the NHIOP, said he respected Lewandowski's work on Trump's campaign.
"He knows very well a man who now leads the country, who kind of came out of nowhere in a presidential race to win," the Lowell resident said. "He's definitely a very personable and well-thought man, and I think he did a good job with the tenacity of questions that he faced tonight."