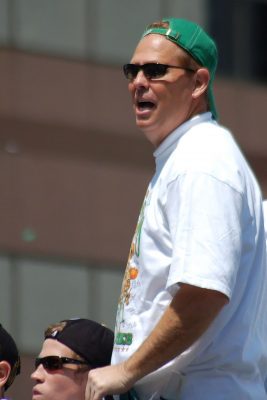 Around Boston, two teams are currently making headlines for their performance away from the field, despite being in the midst of their respective seasons. Both the Celtics and the Bruins have shown flashes of promise this winter.
The C's were rolling into the All-Star break, the Eastern Conference's second seed in hand for the time being. The Bruins are currently in a similar boat, roaring to wins in six of their last seven games — all of which came after the team fired coach Claude Julien and replaced him with Bruce Cassidy.
However, the Celtics are currently facing criticism, and not for their abysmal performances in their last three games. The C's are taking flak for doing absolutely nothing at the trade deadline. Deciding to hold on to their assets, the Celtics sat by and watched as divisional rivals like Toronto and Washington got better while the likes of DeMarcus Cousins and Nerlens Noel were traded for next to nothing. Thus the "stand pat movement" was born.
The stand pat movement is the informal title for the Celtics' decision to nervously hoard their young players and their coveted Brooklyn Nets draft picks from the clutches of teams who are willing to trade for them. Now, with the NHL trade deadline approaching at 3 p.m. on March 1, many Bruins fans are also clamoring that the Black and Gold also stand pat and leave the team alone. In both instances, supporters of doing nothing cite not upsetting team chemistry as their reasoning for the lack of acquisitions.
Not only does that way of thinking contradict the way rosters have been assembled and changed for decades of professional sports, but it also gives Danny Ainge and Don Sweeney a free pass to not improve their squads going forward.
The Celtics have been in desperate need of a rebounder. Out of 30 teams in the NBA, the C's are tied for 27th in team rebounding with their team rebound differential being a -3.7 boards per game. Their best rebounder is Al Horford who, at six-foot-ten, is grabbing 6.6 rebounds per game. That is 49th best in the NBA.
To put that in perspective, Serge Ibaka, who the Raptors just acquired from Orlando, averages more per game, as does Michael Kidd-Gilchrist, who is a full three inches shorter than Horford. Gilchrist also plays on Charlotte, who has 13 less wins than the C's but are out-rebounding Boston by 3.8 boards per game.
Cousins, the NBA's 11th best rebounder, averages 10.7 boards per game and was traded in such a lop-sided deal that a picture is circulating the internet where the NBA 2K17 version of the Sacramento Kings rejected the same deal that the actual Kings made. No, seriously.
And while the Sacramento higher-ups are certain that Buddy Hield will be the next Stephen Curry, the Celtics had more than enough assets to pitch a better deal for Cousins.
Noel was also shipped for next to nothing, going to the Dallas Mavericks for Justin Anderson and Andrew Bogut — who was subsequently bought out — as well as a heavily protected first round pick in 2017. The C's then wrapped up the trade deadline by not landing neither Jimmy Butler nor Paul George, two prolific scorers rumored to be on the market who would really improve the Celtics. Splendid.
Now many fans are calling for the Bruins to stand idly by as trades are dealt left and right before Wednesday's trade deadline. And while I am in favor of not giving up players to bring in another aging veteran for a potential playoff run, the B's have to do something. Don't go out there and acquire Lee Stempniak or Wade Redden who are locker room guys — you don't need another old player in a locker room filled with the likes of Zdeno Chara.
What the Bruins do need is a solid top four — preferably top two — defenseman who can bridge the gap between Chara and the next franchise blue liner. A prime candidate was Kevin Shattenkirk, a durable and hard-nosed defenseman that knows how to play the position well and has the style of play that would make him beloved in Boston. Too late, the Washington Capitals acquired him on Monday night.
Ben Bishop, the star goalie for the Tampa Bay Lightning, who helped lead them to a Stanley Cup final two years ago, also moved. With the B's looking for a solid netminder to go alongside Tuukka Rask — who is more than likely going to be overused by the time the final playoff push comes around — off went another prime candidate. One other hope Boston has for their goaltending prospects is to acquire the Islanders' Jaroslav Halak, the former starter for the St. Louis Blues.
I understand neither team wanting to cash in all their young chips to bring in someone that may or may not work out. I'm not mad at Ainge for not selling the farm for Paul George. Nor would I be upset with Sweeney for keeping the likes of defensive prospect Brandon Carlo. However, what is unacceptable is both general managers choosing to stand by and do nothing to improve their squads while their competition all gets better.