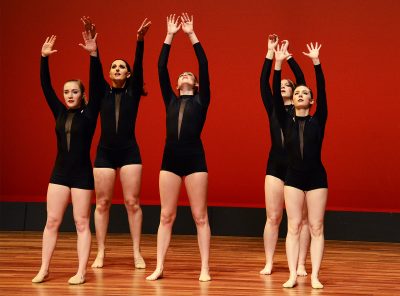 The Edge Dance Company, a Boston University jazz/lyrical dance group, hosted a benefit showcase at the BU Tsai Performance Center on Saturday to raise money for the Dizzy Feet Foundation. The group invited several dance groups from the Greater Boston area to perform at "Breaking Bounds 2017."
The Edge has been planning the show since the beginning of the year, said Riley Durkin, the secretary of the Edge.
"We wanted 'Breaking Bounds' to be a showcase of the more contemporary and lyrical styles of dance, so we reached out to local groups and companies that specialize in this style," said Dirkin, a sophomore in BU's College of Arts and Sciences.
Although 'Breaking Bounds' is an annual show to unite the Edge and Dizzy Feet Foundation, this year was different.
"This was very unique because it was the first time our team choreographed small groups for the show," said Danielle Katsman, a member of the Edge. "In the past we just did dances as a group, but this year people choreograph[ed] and [held] auditions for their small group. 'The Wolves' was the small group I choreographed."
Before the first performance of the night, the Edge previewed a promotional video featuring the Dizzy Feet Foundation. The foundation supports programs that provide dance education and scholarships to communities in need and students who are passionate about dance, according to the video.
The Dizzy Feet Foundation, founded in 2009, has reached 18 states and has helped more than 40,000 students pursue their passion for dance, according to the video. The program helps underprivileged and at-risk youth by providing a means for them to grow creatively.
The backdrop lighting of the show, which illuminated a different color spectrum for each performance, fit with the overall mood of the atmosphere.
Many of the dancers in "Breaking Bounds 2017" shared the meaning behind their routine and their reasons for performing at the benefit showcase, Durkin said.
The Edge gives several people an opportunity to choreograph, Durkin said, to share their own stories and emotions.
"When I was choreographing 'Medicine,' I tried to portray the message of helping those that are struggling and being there for each other during hard and lonely times," Durkin said.
Katie Mossburg, another dancer in the Edge, explained that she interpreted the lyrics of "Rivers and Roads" and then translated them to choreograph a dance.
"The story was essentially of people coming together and drifting apart along the paths of their lives," said Mossburg, a freshman in the College of Engineering.
Although MIT Fixation, a contemporary dance group at the Massachusetts Institute of Technology that performed in "Breaking Bounds 2017," did not have a particular vision in mind when they started choreographing "No Angels," it ended up being about frustration.
"We feel dance has strongly influenced our lives and love that this event helps to provide a way for people to get dancing who may otherwise not be able to," said Katrina Mikofalvy, a member of MIT Fixation.
BU's Dance Theatre Group, who also participated, performed a more athletic piece.
"The choreographer of this piece was very inspired by the Olympics because she thought of her idea as the Olympics was going on, and she was very inspired by the athleticism of volleyball players," said Brittany Kubicko, the public relations officer of DTG.
The Boston Community Dance Project also performed in "Breaking Bounds 2017," and often participates in benefit shows. The group does a lot of charity work to bring in the whole community and gives them an opportunity to connect with non-dancers, said Arianna Perry, a member of the BCDP.
"Especially since this show is for a dance-based charity, it's close to home for a lot of us," said Maria Perry, a member of the BCPD.
Although their performance was choreographed by SKooJ corE-O, not the dancers, "a huge part of BCDP is to take a story and interpret it as your own," said Alyssa Vernet, a member of BCDP.
The chance to choreograph was also a huge learning experience, some dancers said.
Katsman, a sophomore in BU's College of General Studies, choreographed "The Wolves," because she has always wanted to perform the song and try choreographing it, she said.
"I like to tell my own story when I dance, regardless of what other people are telling — that is what makes dance personal," Katsman said.
Growing up a dancer, Katsman said she had always admired the Dizzy Feet Foundation and its cause.
"I love this showcase, not only for what it supports, but because it gives our friends and family a chance to see us dance while also supporting a great cause," Katsman said. "My mom and sister flew in from Seattle just to watch us this weekend."
But, as many dancers expressed, the show was not just a way to give back to the community. It was also a way of giving back to dance itself, an art that has helped many dancers grow.
"The Dizzy Feet Foundation gives people the opportunity to dance who otherwise wouldn't be able to [and] it brings so much happiness into the world," Durkin said. "As a kid, I was somewhat shy and self-conscious, but dance taught me to be confident."
CORRECTION: In an earlier version of this article, Arianna Perry's quote was mistakenly attributed to Maria Perry.