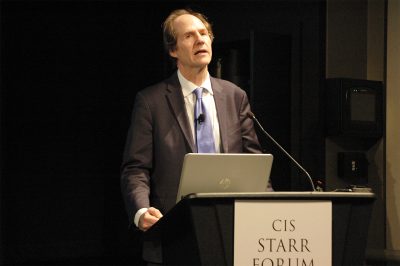 The Massachusetts Institute of Technology Center for International Studies held a talk on Monday, featuring Harvard Law School Professor Cass Sunstein, who spoke about how behavioral science and nudges, or subtle subliminal implications, affect individuals and communities.
The CIS Starr Forum is a public event in which "leading academics, policymakers and journalists" are invited to the MIT campus "to discuss pressing issues," according to the university's website.
"Cass' talk fits within our Starr Forum mission of bringing to the MIT campus leading academics, policymakers and journalists to discuss pressing issues in the world of international relations and US foreign policy," Michelle Nhuch, director of public programs at MIT, wrote in an email to The Daily Free Press before the talk.
Nhuch explained that the goals of the forum are to reach a diverse audience and to "generate discussion and leave people thinking and hopefully they'll take it one step further."
A crowd of 70 gathered at MIT's Bartos Theater, including Boston students, professors and residents.
Sunstein oriented his remarks around the issues of the environment and specifically how the use of behavioral science and nudges can push people to be more environmentally aware. Specifically, he addressed the examples of environmentally-conscious nudges around the country that he has seen.
"The United States has had a quiet, but nonetheless real, energy transformation that transformation has occurred complementary to a set of initiatives adopted to prevent a depression in the light of the depression we recently experienced," Sunstein said, opening his talk.
Addressing various psychological phenomena, such as the positive effects of automatic enrollment in green programs, social norms, choice architecture and meaning, Sunstein talked about the success of psychological techniques to make the United States more efficient.
Sunstein, the administrator of the White House Office of Information and Regulatory Affairs in the Obama administration from 2009 to 2012, also described why people avoid green energy programs or opt out of them.
Using the example of the MyPlate healthy eating initiative started by former First Lady Michelle Obama, Sunstein explained how simplicity in understanding initiatives is key to making change.
"When people don't do something, it's often not that they don't like it or reject it, it's that they don't know what it is," Sunstein told the crowd. "The resistance to a proposed course of action as every student, teacher, parent [and] public official knows is that resistance is often incomprehension."
David Somers, chair of the Boston University Department of Psychological and Brain Sciences, did not attend the talk, but commented on the concept of nudges afterwards.
"It is not a term that I have heard used scientifically, but I understand what they mean, and how you can gently alter people's behavior through them," Somers said.
Mentioning the recent election, Somers shared an example of how nudges can be used not only in science and environmental studies, but in the political world as well. "Push polls," a form of nudges, are used when pollsters will call a voter right before an election and talk to them about topics their candidate polls strongly on, Somers said.
"It's really to get you thinking about questions that are fresh in your memory, so when you go to the polls, you remember this topic matters and what this candidate thinks about this," Somers said.
Regarding Sunstein's remarks, Somers said there are many techniques that the public can use for a variety of decisions.
Sally Haslanger, a professor in the Department of Linguistics and Philosophy at MIT and an attendee of the event, said she is researching and applying a specific psychological technique.
During the question-and-answer section of the event, Haslanger asked about social meaning and incentives.
"From the point of view [of] a social movement or an activist, I'm trying to think of the strategic ways to solve, what [Sunstein] called, the collective action problem of social meaning," Haslanger said. She later added, "It was useful, but I need more."