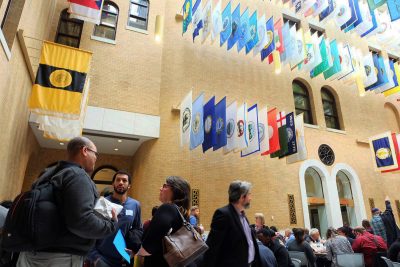 Hundreds of people congregated at the Massachusetts State House Wednesday morning for Public Higher Education Advocacy Day, where student activists lobbied their legislators for a debt-free public higher education system.
The Public Higher Education Network of Massachusetts, an organization of educational professionals and student activists that advocates for public higher education, sponsored Advocacy Day.
Zac Bears, the executive director of PHENOM, told The Daily Free Press that private colleges remain out of reach for most Americans today.
"Public higher education is essential to our society and democracy," Bears said. "Public education was created over 150 years ago to ensure that people from working families could afford to go to school."
Bears said 75 percent of all college students in America attend a public college or university, and cumulative average student debt has increased 55 percent since 2001.
"Public higher education is the only way most people can keep going to school after they graduate from high school, which is more important than ever when it comes to getting a good-paying job and being able to support yourself and your family," Bears said.
Bears said Advocacy Day participants have been trained on what to expect during a legislative meeting and how to share their experiences in the public higher education system with legislators.
"The only way we will make change … is by sharing our stories with legislators and presenting them with the tools to help us fix the problems facing students and working families in our public higher education system," Bears said.
During Advocacy Day, several local leaders and lobbyists in the fight for affordable education spoke about their personal experiences in the education system and encouraged participants to join their efforts.
Erika Civitarese, a senior at University of Massachusetts Amherst and student coordinator at the college's Center for Education Policy and Advocacy, stressed the importance of public higher education in her own life.
"It's been a really bumpy road getting here," Civitarese said. "Growing up working-class with parents who never attended college, I had really no educational support besides my teachers. I wouldn't be where I am today without public education."
Civitarese said she still has $38,000 in student loans, and now her family faces the challenge of sending her 15-year-old sister through the public higher education system, too.
"The time is now for Massachusetts to become a leading force for free higher education," Civitarese said. "[Students] have the power to create the change that we know that we need."
Joseph Ramsey, a PHENOM organizer at the University of Massachusetts Boston, said the six-figure student debt he acquired from his private education still affects his finances today.
"We have tremendous wealth in this Commonwealth," Ramsey said. "We have more millionaires and billionaires than ever, and yet we are told there is not enough money for something as basic as public higher education."
Barbara Madeloni, the president of the Massachusetts Teachers Association, said U.S. Secretary of Education Betsy DeVos does not believe in public education, and her actions will lead to the privatization of public education if Americans do not stop her.
"We know this is right and we know that the people are behind us," Madeloni said. "[Affordable public higher education] is something to demand. We need to demand economic justice that makes public college education affordable for every single student in Massachusetts."
Matthew Patton, the executive director of Fair Shot for All, an organization that lobbies to decrease the income gap, said the millions of dollars students are currently putting toward their student loans could positively impact the economy.
"I need you, and Massachusetts needs you, because you are the future of Massachusetts," Patton told students in the crowd. "We can make college affordable, but we can only make college affordable if we demand it."
Several Massachusetts students who attended the event said they came to voice their concerns regarding the high cost of public higher education.
Stephen White, 21, of Fall River, said free college tuition will advance society by allowing more of the population to be educated.
"I have yet to see an argument to the other side that shows that the status quo that we have currently is more effective," White said. "I believe that it should be a given right for anybody to have access to a higher education, and access to a free higher education."
Phil Demenezes, 27, of Hyannis, said he attended the event to familiarize himself with the procedure of making change.
"Some students can't afford to go to school, and that's why they don't go," Demenezes said. "If school were free, it would help this country in the long run."
Austin Bell, 18, of Fall River, stressed the importance of educating America's upcoming generation of adults.
"I find that education is very important, and the fact that the state wants to cut it is ridiculous," Bell said. "We, as students, are the future of this country."