Approximately 100 Boston University students and faculty gathered in front of Marsh Chapel Wednesday afternoon, protesting the corporatization of higher education.
The rally, co-hosted by several organizations, including Divest BU, Massachusetts Interfaith Worker Justice, Make Boston University a Sanctuary School and Student Labor Action Project at BU, aimed to push forward several agendas, such as asking BU to become a sanctuary campus, divest from fossil fuels, negotiate with faculty unions and stand up to Islamophobia, according to the rally's Facebook event page.
Masha Vernik, a sophomore in the College of Arts and Sciences and a member of Divest BU who helped organize the rally, spoke before the march.
"Now is not the time for complacency," Vernik said. "Now is a time to stand up and resist [President Donald] Trump's destructive plans to further corporatize higher education and that is what we and dozens of universities are doing here today."
Vernik also spoke against BU President Robert Brown, who has refused to have a face-to-face meeting with Divest BU members.
"I am not a profit margin, President Brown," Vernik said. "I am a community member whose voice must be heard if we want this university to make the right decisions to benefit us and the world around us."
Representing the adjunct faculty union on campus, BU Faculty Forward, Dev Luthra, an adjunct in BU's Prison Education Program, spoke about BU's semester-to-semester contract deals with adjuncts and the disparity among course prices.
Luthra also called on students to make their voices heard.
"It is our right and our duty to assert our voice in those areas," Luthra said.
Michelle Walsh, a BU alumna and lecturer in the School of Theology, addressed the inequity and unfair treatment of faculty across campuses and schools.
"I am approaching this as someone who values human worth and human dignity," Walsh said. "That is something I see struggle here at BU."
Kimberly Barzola, a senior in CAS who worked on the petition to make BU a sanctuary campus, spoke on behalf of the sanctuary campus movement.
"Our response has to be more than proactive or reactive," she said. "It has to be coordinated, disciplined in order to respond to this government."
BU does not declare itself a sanctuary campus and currently has no policy to protect undocumented students.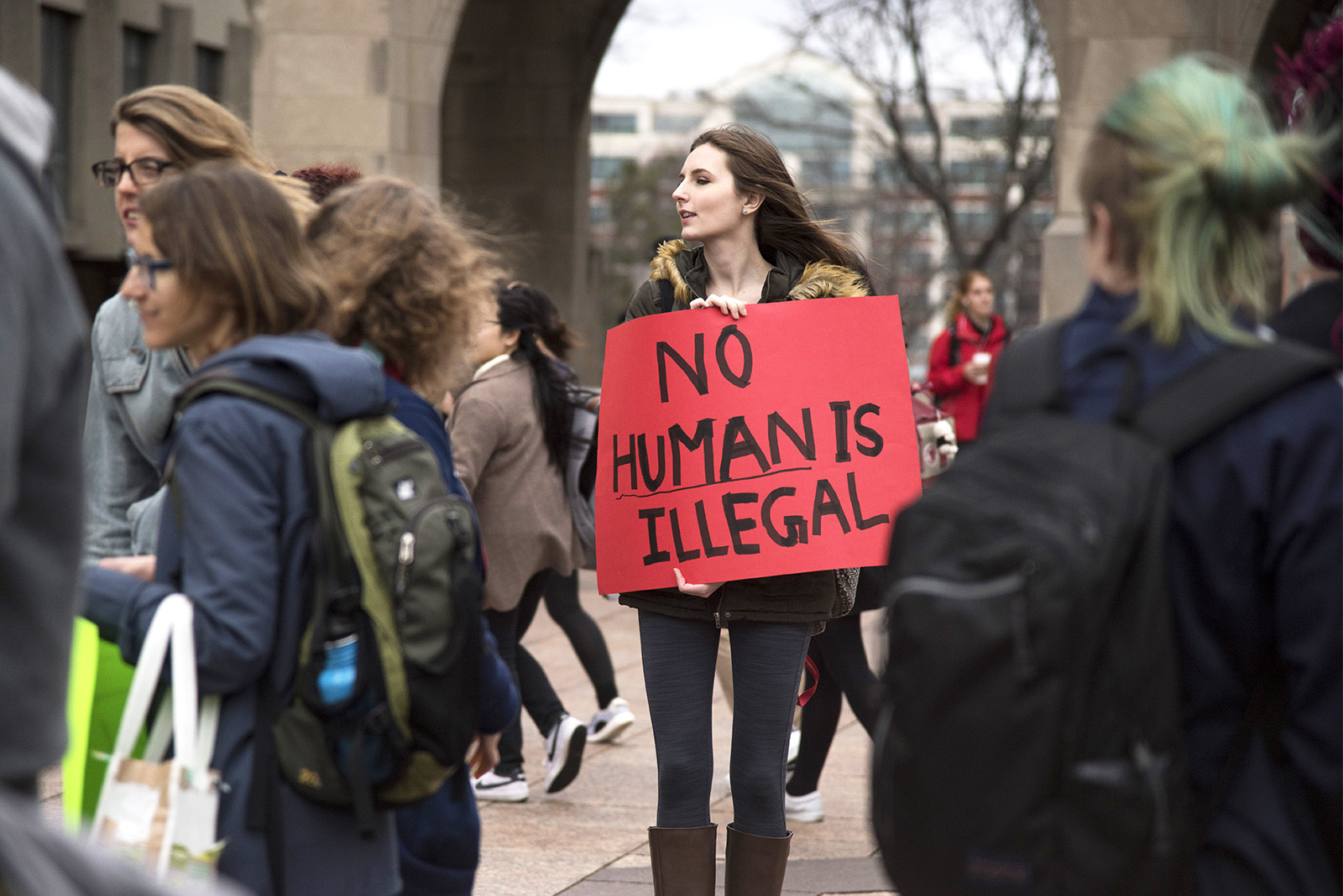 After the speakers voiced their organizations' beliefs, the group marched from Marsh Plaza to Brown's office, chanting "education not deportation" and "hey BU, you can't hide, we can see your greedy side." Other chants included "yes to divest," "silence violence" and demands for fair contracts.
In front of BU's administrative office building on Silber Way, protesters continued to rally and explain why they were here today.
Student organizations played a game, comparing Trump's and Brown's actions on issues, revealing facts on what Brown and BU Board of Trustee members have done.
Several students and faculty members said the rally was important to express their concerns.
Julia Yoder, a sophomore in CAS and a member of Divest BU, said that she hopes this rally raises awareness.
"I think it's a great way for student groups to come together, and as a combined force we have more student power," Yoder said.
Ana Victoria Morales, a communications specialist at Service Employees International Union 509, said she came out to the rally as a community ally. SEIU 509 helps organize adjunct professor unions across Boston.
"[Rallies] continue to move forward our platform of solidarity and creating equality for all," Morales said.
Rachel Eckles, a senior in CAS who is involved with Divest BU and the Student Activist Coalition, said she came to the protest to highlight the concerning trends at BU over the past 10 years.
"Basically, there's ever-increasing tuition, ignorance to student voices and less transparency to workers' rights, and all of these things are really concerning," she said.