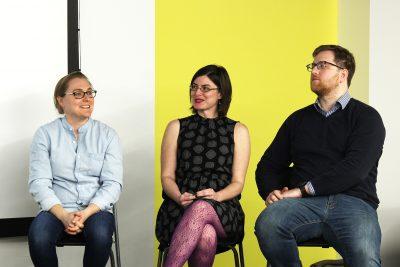 An emerging poetry startup called Trūbadour is working to change the stereotypes and stigmas surrounding poetry as an archaic and inaccessible art, solving the many problems with poem submission, publication and readership.
"If we had a more globalized, localized platform that would enable communication, it would overall benefit the quality of poetry that we aspire to create and the value of that experience in and of itself," said Rebecca Roach, the founder of Trūbadour.
Trūbador is a platform that will give contemporary poets a place to publish their work, and it will match readers with poems they want to read, transforming the world of poetry from "submit-and-sell" to "share-and-connect," according to the company's website.
Roach and Linus Lee, who is the developer and designer of Trūbadour, co-hosted an event Friday titled "ConVERSE-ing New Directions: Poetry + Technology." The team is currently working on making prototypes of the app, and looked to receive feedback on their current accomplishments. The team plans to finalize design goals by June, they said.
The conversation, held at Cambridge Innovation Center, featured a panel of Boston poets discussing current publishing models, and the needs of readers and writers.
Panelist Heather Hughes, who writes for Mass Poetry, said poetry has a large number of subscribers but not many people use apps that provide it.
"We as poets and publishers don't know what technologies are going to stay around long enough to be worth the very small amount of resources we have," Hughes said.
However, Trūbadour is working on leveraging technology to create a stable and effective source for poets and readers to communicate. Lee explained the basic features of the app.
The app has three sections: "Read," "Feed" and "Me," he explained. The "Read" section allows readers to discover new poems and are given suggestions based on their interests. In "Feed," users can follow specific poets and receive updates on their new material. "Me" gives both readers and poets the ability to create their own profile bio, pin poems or activities to show their work and make a library of favorites.
Another function Trūbadour will provide is the control over who has access to a poet's work and the choice of accepting feedback from readers and writers.
Today, poetry is found on many platforms such as books, blogs and journals, but social media is becoming a hub for poets, as shown by popular Instagram accounts such as @atticuspoetry and @rupikaur_.
However, panelist Zachary Bos, founder of the Boston Poetry Union, said apps that publish poetry are "woefully undersubscribed." He added that there are no success stories where poets have obtained a verified readership based on their success on social media, which he breaks into three categories: readership, revenue and reputation.
Other platforms such as Poetry Daily, Wattpad and the Poetry Foundation have both a website and app, but Roach said they are out of date because the internet is constantly changing. She added that some publications are "notoriously bad" at treating their writers, often scamming poets with expensive reading fees, a price they have to pay for each poem they submit.
"As a new reader of poetry, I don't want to spend much time if I know that the investment isn't worth it," Roach said.
As a result, finding good poetry is unpredictable, time consuming and costly, Roach said.
Most problems come from the submission process, she continued. Poets are expected to distinguish themselves professionally by submitting work, but Roach said it's a subjective system. Even if the work is high-quality, if it doesn't fit the aesthetic of the publication, the work will have a slim chance of reaching an audience.
The Review Review reported that from 2015-2016, Duotrope, a subscription-based service for writers and artists, had a 0.24 percent acceptance rate, which is creating "waste" in the system, Roach said.
In addition to this competitive process, poets also encounter reading fees for submissions. These range between three to five dollars per submission, Roach explained.
"It's a number game," Roach said. "The more chances that you want to succeed as a poet, the more you have to submit to get your work out."
To counter the issues poets are facing, Trūbador is working to provide reciprocity, a clean design and support for readers as well as writers to improve as artists, Roach said. Both Roach and Lee said they hope professional poets will switch to Trūbador to publish their work so they can reach more readers and get the recognition they deserve.
Jeff Thomas, a quality assurance engineer at Taxware, attended the event and said poets may have to "piggyback" with other artists, like musicians, to solve the issues they are facing.
While Bos said that poetry organizations don't have the resources to make such collaborations possible, the "format, technology wise, doesn't really matter," Thomas said. "I think what they're saying is more important, and that message has to get across to people."