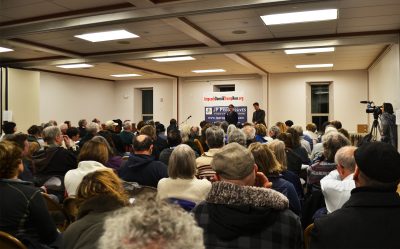 More than 100 people gathered at the First Baptist Church in Jamaica Plain on Thursday to attend a "Impeach Trump Now" campaign, hosted by the JP Progressives on Thursday.
John Bonifaz, the co-founder and president of Free Speech for People, and Ben Clements, the chairman of the board for Free Speech For People, spoke at the event and said President Donald Trump needs to be impeached.
Free Speech For People is a "national non-partisan nonprofit" that aims to eventually have the House of Representatives Judiciary Committee investigate whether there are enough grounds to impeach Trump, according to the Impeach Trump Now's website.
The campaign began when Trump announced, prior to his inauguration, "a wholly inadequate plan to step away from operations, but not ownership or income streams, of the Trump Organization," according to the campaign's website.
Bonifaz said in an interview before the event that this meeting is one in a series of public events taking place all around the country to call attention to the president and to hold him accountable.
Bonifaz said he wants people to leave the event with a sense of responsibility and understanding that they can take action to resist an administration they do not support.
"We want people leaving here understanding that it is in our hands," Bonifaz said. "We the people have the power to take our constitution back, to reclaim our democracy."
When the formal discussion began, Bonifaz said the amount of corruption in the current government is unprecedented.
"This is unprecedented corruption we are seeing in the Oval Office under this president, Donald Trump," Bonifaz said. "Donald Trump was repeatedly warned prior to taking office that he would need to divert fully from his business interest in order to comply with the constitution."
Bonifaz cited the Emoluments Clause of the Constitution as a critical anti-corruption provision in the U.S. Constitution that Trump's presidency has violated.
"Because the president has refused to deviate fully from his business interests, he has been in violation of both of these anti-corruption provisions of the constitution," Bonifaz said.
Clements said it is of utmost importance to keep big business out of the political sphere.
"We [Free Speech for People] believe … we cannot be true to our mandate, to take on big money in politics and at the same time remain silent in the face of this unprecedented corruption of the presidency," Clements said. "The president is using the Oval Office as a profit-making enterprise at the public's expense. To Mr. Trump the presidency … is just an extension of his family business."
The team called on the audience to be proactive and call their representatives and members of Congress to pass a resolution to begin the impeachment process.
"Sooner or later, those in Congress are going to start thinking about the 2018 cycle if they haven't already," Bonifaz said. "They're going to have to wonder if they should keep staying on the side of this lawless president. Is that going to hurt them on election day? If we demonstrate that it will, then I think we will find votes on our side."
After the speech, several people said they felt hopeful after learning about "Impeach Trump Now's" agenda.
Alham Saadat, 39, of Arlington, said she wanted to join a movement to impeach Trump, and this was the substance she was looking for.
"[I had] a desire to be involved in a movement that is interested in dealing with an administration that continues to break the law," Saadat said. "It's exciting to see people who are actively involved with using the law and the impeachment process and using facts as a way to take Donald Trump out of his current position."
Ellen Fine, 52, of Needham, said she also felt informed and hopeful.
"It gave me a lot of hope," Fine said. "You don't always walk out of the room with an intellectual answer, but I feel like I did and I also feel like someone is doing something."
Marie Grimaldi-Marvel, 60, of Jamaica Plain, said the conversation laid a solid foundation to enable citizens to take action.
"It's been chaotic, because there has been [previously] no strategy," Grimaldi-Marvel said. "This is definitely a very concrete action. I have not lost hope, like many of my friends … tonight I feel really energized."