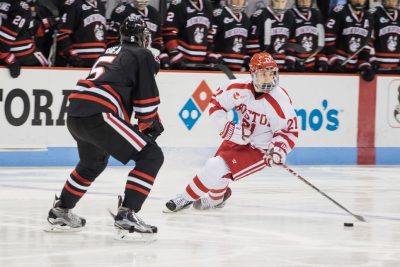 Playoff hockey is back.
Beginning Friday night, the No. 8 Boston University men's hockey team will host Northeastern University at Agganis Arena for a best-of-three series in the quarterfinal round of the Hockey East Tournament. The second-seeded Terriers and eighth-ranked Huskies will square off again on Saturday evening and, if necessary, on Sunday night.
Both squads are riding high, as BU is fresh off earning a share of the Hockey East regular-season title, while Northeastern is 11-3 in its past 14 games. Perhaps more importantly, though, senior captain and defenseman Doyle Somerby said that postseason play brings about urgency.
"It's pretty serious now; it's a big brand of hockey," Somerby said. " … When we met on Tuesday, we left it all on the line and said, 'This is a weekend where we need to play the way we can play and set a tone for what our playoffs are going to be like.' We trust ourselves, and it's just something that has to come from within."
These two sides met back in early November, with the Terriers taking three of a possible four points from the weekend series. However, BU (21-10-3, 13-6-3 Hockey East) head coach David Quinn said those results won't influence these upcoming games.
The dominant reasons, Quinn said, are head coach Jim Madigan's team is healthy and "better defensively." As for Somerby, he said Northeastern (18-13-5, 9-10-3 Hockey East), which won the 2016 Hockey East Tournament, always seems to get hot come playoff hockey.
"They're a really good team," Somerby said. "They're fast, they're up-tempo, they like to push the pace. They put up so much offense."
The superlatives from Somerby bear fruit, too.
Northeastern's power-play unit scores 28.95 percent of the time, good for second in Division I hockey. Meanwhile, it boasts three of the nation's top-10 scorers in senior Zach Aston-Reese (62 points), junior Dylan Sikura (56 points) and sophomore Adam Gaudette (52 points).
The Huskies' biggest flaw, arguably, is goaltender Ryan Ruck, whose goals against average (2.94) and save percentage (.896) all rank in the bottom three of Hockey East netminders. Through those highs and lows, Quinn said Northeastern poses a serious challenge.
"We certainly understand our opponent and how talented they are, and we just have to make sure we don't give them time and space," Quinn said. "If you do that, you have a much better chance to have success."
Leading that charge for BU – the youngest team in college hockey – will be a slew of talented youngsters.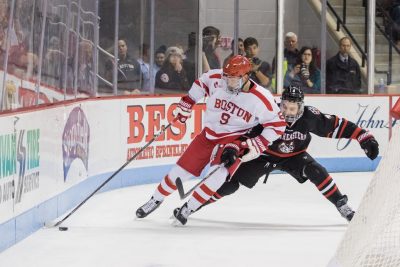 Freshman goaltender Jake Oettinger, who will start on Friday, ranks in the top-10 nationally in goals against average (2.06), save percentage (.927) and shutouts (four). Meanwhile, forwards Clayton Keller (38 points) and Patrick Harper (34 points) both rank in the top-five nationally in freshman scoring.
Outside of any single player, Somerby said another motivator is how BU fared in the 2015-16 postseason.
In the Hockey East Tournament, the Terriers narrowly squeezed by the University of Massachusetts Amherst in the opening round, only to be promptly bounced by the University of Massachusetts Lowell. Come the NCAA Tournament, BU lost in the opening round, 7-2, to the University of Denver.
In simple terms, Somerby said playoff hockey means there's no guarantee of another game.
"We're not taking anything for granted," Somerby said. "We know we have a special group and we have a close-knit group, so we put it on the line that we're playing for each other and extend our season for as long as we can. That starts tomorrow."
All things considered, Quinn said BU must approach the weekend one tilt at a time. From that, he said, BU could secure its ninth Hockey East Tournament title.
So, what will Quinn be looking for?
"Our puck movement, our urgency," Quinn said. "When a puck comes to you, are you ready to do something with it? The edge that we have physically and offensively, and then our commitment to playing defense. Those are the things that are going to determine our success throughout the weekend."