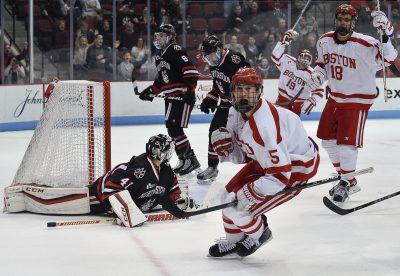 The comeback kids are alive and well, with an extra dose of déjà vu on the side.
Facing an early 2-0 deficit, the No. 8 Boston University men's hockey team never said die on Saturday night, completing the sweep of Northeastern University in the Hockey East Tournament's quarterfinal round. With a 3-2 win in hand – a repeat scoreline from Friday night's series opener – the Terriers advance to the semifinals next weekend at TD Garden.
"You're going to need mental toughness, you're going to need to be resilient this time of year," said BU (23-10-3) head coach David Quinn. "You can't let situations put you down and you have to keep moving forward. I thought that's what we did."
Above all else, even when matters again looked bleak, Quinn's side dug deep and found a way to get the job done. Only this time around, their great escape came with an extra caveat: It virtually guaranteed the Huskies' (18-15-5) dream of postseason silverware comes to a screeching halt.
Northeastern, which captured the 2016 Hockey East Tournament, came into the weekend on an 11-3 roll, only to meet their maker.
"It's never easy to end somebody's season," Quinn said. "That's a heck of a hockey team we just played. I don't think there's a team in the country that you're playing like that in the second round of your playoffs. We may move forward and not see teams as good as them."
Head coach Jim Madigan's squad came out with desperation, and their tempo paid dividends just 2:23 in.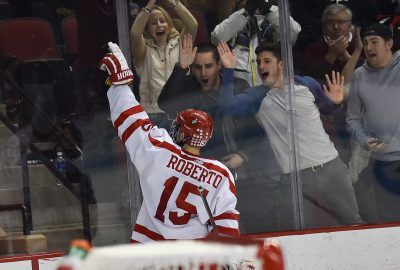 Forward Biagio Lerario beat freshman goaltender Jake Oettinger bar down, only for Nolan Stevens to cushion the lead nearly 10 minutes later immediately after a power play expired. Feelings of déjà vu crept into Agganis Arena, but freshman defenseman Chad Krys said the sputtering start was the product of BU's recent 13-day break in between games.
"I think it's something coach Quinn is going to harp on us in practice and all week to be on top of things every day," Krys said. "That will translate over, but it's something that's very fixable."
Then, with nearly five minutes left in the second frame, the Terriers sparked to life.
While on the power play, freshman winger Clayton Keller picked out sophomore center Jakob Forsbacka Karlsson, who tipped the puck home past goaltender Ryan Ruck. Trailing 2-1, senior forward Nick Roberto found the equalizer early in the third period, and then a golden chance fell into BU's lap.
Northeastern defenseman Garret Cockerill was called for hooking with 1:34 left in the contest, and Krys ensured that another overtime encounter wasn't in the cards.
The 6-foot native of Connecticut pounced on a "JFK" rebound, slotting into the open net with 24.9 ticks remaining. And just like that, what seemed like a season-saving win for Northeastern turned into a drama-filled "W" for the home side.
"We trust everyone in our locker room and we have a deep team," said captain and senior defenseman Doyle Somerby. "We're all about the next goal, no matter if it's 5-0 and we're down or we're up 3-2. It's all about the next goal, and we have a lot of confidence in ourselves."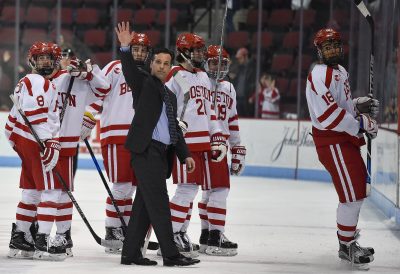 Added Krys on BU's ability to bend and not break: "I think it shows a lot of growth from the beginning of the year. Obviously we have a really young team and to respond like we have the last couple games is not the starts we want coming out slow. But it takes a mature team to come out and come back from two two-goal deficits."
Looking down the road, the charge before BU doesn't get any easier.
Early signs indicate it'll play No. 17 Boston College next weekend in the Hockey East semifinals, but no matchups are yet written in stone. Regardless of who the opponent is, though, Quinn and Somerby said there's reason for equal parts optimism and reflection.
They agreed that Lady Luck won't always be on BU's side, but remain confident that they're hitting their stride. Perhaps most encouragingly of all, Quinn said of undisclosed injuries to sophomore forward Bobo Carpenter and junior defenseman John MacLeod that "they both will be available next weekend."
Come that point, Somerby said instinct will take over.
"We just have to play a full 60," Somerby said. "You don't always have to be on your best every single shift, but we have to limit our worst when we're coming out of the gates and take that never-die approach to the Garden."