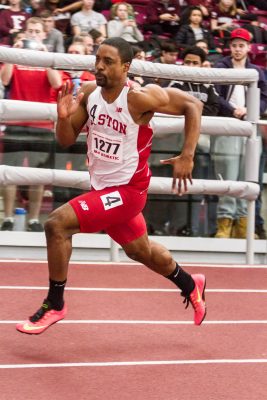 Seniors Cameron Williams and David Oluwadara of the Boston University track and field team participated in the NCAA Division I Indoor Track and Field Championships this year.
Williams, a San Antonio, Texas native, returned to his home state and placed 14th in the 200-meter sprint with a time of 20.98 seconds. Meanwhile, Oluwadara, who holds the BU record for triple jump, finished 9th in the event with a leap of 15.88 meters. For their performances on the season, both Williams and Oluwadara were named to the Second-Team All American.
The men also participated in the IC4A Championships over spring break. The 4×400 relay team placed in the top-eight, which designated them All-IC4A/All-ECAC Performers. The team consists of junior Cameron Nurse, senior Justin Flynn, freshman Chiebuka Onwuzurike, and freshman Jamin Harris. They placed third in the competition with a time of 3:15.80.
Women's track shines bright at ECAC Championships
The women's track and field team concluded their season by participating in the ECAC Championships. Notable in the event was the 4x400m relay team. The team consists of junior Ayodele Adesanya, senior Toria Levy, senior Djenne Parris and freshman Leah Fowlkes. The relay team finished in first place and set a school record with a time of 3:39.66.
The Terriers saw success elsewhere as well. Sophomore Lovie Burleson won gold for the Terriers in the long jump, setting a personal best with a distance of 5.95 meters.
BU had three top-eight finishers among the events, which designated them as All-IC4A/All-ECAC Performers. Among this group were Fowlkes, who finished fourth in the 400-meter dash with a time of 55.36, Levy, who finished sixth in the 60-meter hurdles with a time of 8.69, as well as sophomore Kennedy Jones who finished seventh in the triple jump with a length of 12.01 meters.
Men's tennis swept in Sunshine State, women fare better
The Boston University men's tennis team went south for spring break, playing three matches against teams from Florida.
The Terriers (5-11, 1-0 Patriot League) struggled, losing all three matches by large margins.
In its first match, BU squared off against No. 3 Keiser University. Keiser (10-3) defeated the Terriers 5-2. The doubles match consisted of two fierce tandems, including BU senior Lucas Bombonatti and sophomore Satyajit Simhadri. The two gave Keiser all they could handle, but ultimately fell 9-8 in a tiebreaker.
Keiser made quick work of BU in the singles matches, claiming four of the six points.
BU's two singles victories came from Bombonatti in three sets, as well as from freshman Marc Sable, who also won in three sets.
In their next match, the Terriers saw more struggles as they fell to the University of Miami 7-0.
The Hurricanes (6-3) dominated the Terriers in both the singles and double matches. The Terriers lone set victory came in the singles matches from senior Jake De Vries. De Vries won the first set but ultimately lost in two tiebreakers.
The final match for the Terriers came against Lynn University. Once again BU struggled, dropping this match 8-1. The sole victory for the Terriers came in a doubles match, from Bombonatti and fellow senior Mario Sandoval.
The men will battle Sacred Heart University in their next match on March 19.
Women's tennis fared better in Florida, splitting its two games for a 1-1 record. In its first match, BU (5-6), faced off against Florida Atlantic University and won by a score of 4-2.
The Terriers received singles victories from sophomores Remi Ramos and Sophia Kryloff, as well as from senior Barbara Rodriguez.
In its next match against Florida International University (5-6), BU struggled to find success, dropping the match 7-0.
FIU swept the Terriers in singles with set victories coming from Ramos and Rodriguez while neither was able to build upon that success and earn a point.
The women will face off against Brown University in their next match on March 19.