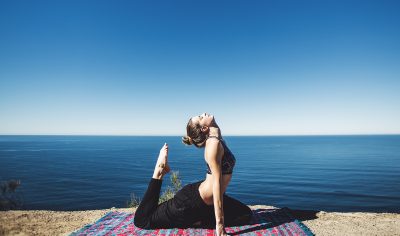 Sensing stress in their student body, the management and faculty at Down Under School of Yoga brainstormed ways they could acknowledge the current political climate while maintaining the principles of yoga. On Friday, they hosted "Down Under Unites: Yoga Stands Up" to strike a balance between yoga and fundraising.
"Yoga Stands Up" was a two-and-a-half-hour workshop at Down Under Yoga's studio in Brookline, where the studio's senior teachers came to teach in support of Massachusetts Immigrant and Refugee Advocacy Coalition, She Should Run and the Environmental Defense Fund. Justine Wiltshire Cohen, director and studio owner of Down Under Yoga, and Sami Lea Lipman, director of marketing, brand and strategic planning at Down Under Yoga, worked with their management to plan the day with the idea of unity in mind.
After the two yoga sessions, specifically Flow and Iyengar, a group panel discussion was held to help students recognize places they feel empowered to take action, Cohen said.
"We want to ensure that we are staying true to our mission, which is to primarily be a place of learning and teaching," Cohen said. "The studio is a sanctuary, and it is a refuge for people of all walks of life and all political persuasions and all opinions and perspectives."
Yoga instructors must carefully approach instances when they sense turmoil in their student body, Cohen said, and construct solutions that are consistent with the philosophy of yoga.
"All of these different schools of yoga actually have the same aim, which is to yoke — to unite these different aspects of ourselves," Cohen said. "Yoga has various principles, one of which is Ahimsa, which means 'do no harm.'"
By striking a balance between unity and Ahimsa, the Down Under Yoga team attempted to create a plan to "take yoga off the mat."
Taking yoga off the mat means focusing your mind in order to become a better version of yourself after practicing, Cohen said.
"The increase in incidents of hate crimes is undeniably on the rise," Cohen said. "And so the question for us as a community was 'how can we remain utterly inclusive of all perspectives, but at the same time acknowledge the very real and pressing problems that we're seeing around us?'"
Although the event opened the dialogue between teachers and students to voice their concerns, the purpose of "Yoga Stands Up" largely hinged on the practice of yoga.
"Everything is tied to yoga," Cohen said. "It's not like Down Under has become a political organization that is not attached to yoga. Everything is being viewed from the lens of this practice, which is really important."
Through self-examination, Yoga Stands Up brought together different perspectives, while keeping yoga in the forefront.
"I'm sure that members of Down Under Yoga are looking for ways that they can participate, express their point of view and show their support," said Sue Parsons, development coordinator at MIRA. "This allows their members to do that, and that's a wonderful thing."
MIRA has been working to uphold the rights of immigrants and refugees in the state for 30 years, Parsons said.
Parsons also acknowledged the current controversial time for immigrants and refugees, and how this workshop serves as a good way for Down Under Yoga to increase awareness among their members.
While they centered around staying true to the roots of yoga, the three organizations it benefitted held steadfast to their missions.
"It's so important because it's tangible action people can take," said Clare Bresnahan, executive director of She Should Run, a nonpartisan nonprofit that inspires young women to run for office.
"Everyone is looking for something they can do to be able to support the cause," Bresnahan said. "Going to events like this and investing in the organizations that support the causes people care about is really important."
Down Under Yoga donated part of the event's funds to the Environmental Defense Fund, an organization that works to protect natural systems.
EDF has put climate change at the forefront of social issues, Cohen said.
"EDF is an international [non-governmental organization]," said Bao Kieu, member relations associate at EDF.
Kieu said he was grateful that events like Yoga Stands Up are taking place in a post-2016 presidential election America.
"We, at this juncture, need to stand up and protect everything we've worked for," Kieu said. "All the environmental progress that EDF has created both domestically and globally — all of that is at risk."
Lipman said the faculties and teachers chose the three organizations that "Yoga Stands Up" benefitted. The workshop, which raised over $2,100 for the three organizations, marked the beginning of Down Under Yoga's fundraisers this year.
"I think it's the question of keeping the discussion constructive," Cohen said. "And really focusing our energies on determination versus despair."