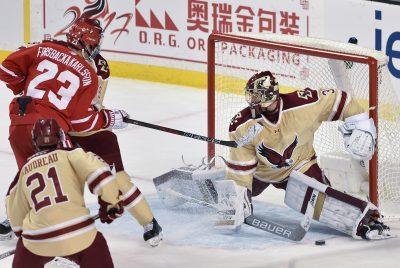 Secure two wins and the No. 7 Boston University men's hockey team wins the Hockey East Tournament for the ninth time.
That's the charge before head coach David Quinn's squad this weekend, as it'll take on No. 14 Boston College on Friday night at TD Garden in the Hockey East semifinals. The victor will advance to Saturday evening's title bout against either No. 4 University of Massachusetts Lowell or No. 10 University of Notre Dame, also held on Causeway Street.
"It's going to be a bumping place – TD Garden is always fun to play at," said junior defenseman Brandon Hickey. "Also playing against BC is pretty exciting, so those are probably my favorite games since I've been at school, playing against BC."
"The fans are rowdy, the fans don't like each other," Hickey said. "They're always there going at each other, so I'm expecting a loud building like it was for the Beanpot. All that matters is what happens on the ice, as much as it is pretty cool playing in front of a lot of fans."
The Terriers (23-10-3) and the Eagles (20-14-4), who hold a combined a 19 Hockey East Tournament titles, have already met three times during the 2016-17 season.
Much to head coach Jerry York's frustration, though, everything's come up scarlet and white.
Courtesy of a combined 8-2 scoreline across a January home-and-home series and the Beanpot Tournament semifinal, BU completed a regular-season sweep of BC for the first time since the 1994-95 campaign.
History is on BU's side historically speaking, too, as the Eagles hold just a 3-9 record against the boys of Agganis Arena in the Hockey East playoffs.
"All these streaks and all that stuff doesn't matter tomorrow night," said BU head coach David Quinn. "How your power play has looked over the last three weeks doesn't matter. How's it going to look tomorrow night? How's your penalty kill going to look tomorrow night? At the end of the day, it's how you play tomorrow night."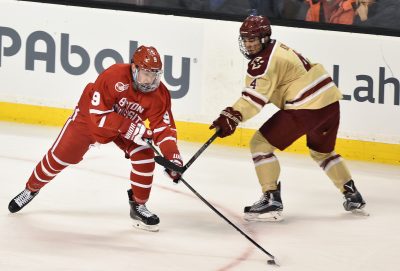 In the here and now, though, both sides are hitting their stride when the margin for error is razor thin.
BC swept No. 16 University of Vermont by a combined 14-4 scoreline in its quarterfinal matchup, fresh off an 0-5-2 run to end the regular season.
Against the Catamounts (20-13-5), the Eagles' three leading scorers – forwards Colin White, Matthew Gaudreau and Austin Cangelosi – proved their mettle, combining for 12 points. Meanwhile, netminder Joseph Woll (.913 save percentage, 2.61 goals against average) stopped 54 shots, one again creating quite the matchup with Jake Oettinger, BU's freshman goaltender.
As for the Terriers, they swept Northeastern University in the quarterfinals, twice coming back from a 2-0 first-period deficit, only to win 3-2 via a late game-winner. Quinn and Doyle Somerby, BU's captain, said last week that their group – the nation's youngest – needs to stop "playing with fire," but is certainly finding form.
"We might get down 1-0 while we're playing well," Quinn said. "That can happen too in a hockey game, and I think that's happened sometimes throughout this little stretch we're on."
On the injury front, Quinn said that sophomore forward Bobo Carpenter and junior defenseman John MacLeod will both return to the lineup. Thus, expect BU's forward lines and defensive pairings to return to those that sparked a 2-1-1 stretch to close out the regular season.
And, as always, the usual suspects for the Terriers stand out.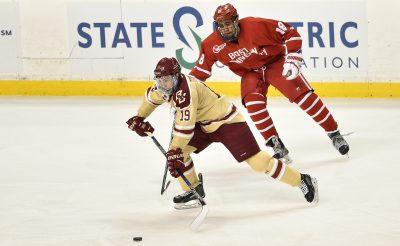 Freshman forwards Clayton Keller (40 points) and Patrick Harper (34 points) and sophomore forwards Jakob Forsbacka Karlsson (31 points), Jordan Greenway (28 points) and Carpenter (30 points) are the biggest threats on offense. The defense, meanwhile boasts six NHL draft picks, all buoyed by an 18-year-old Oettinger, the owner of a .928 save percentage and 2.06 goals against average.
"I know this may sound cliche, but in this game your success against everybody is usually the same recipe for success," Quinn said. "The basis for how you're successful never changes. You have to win your 1-on-1 battles, you got to get to the net more, you have to defend your net front, you have to manage the puck, your special teams have to be good.
"I don't care who we are playing," Quinn added, "that is our recipe for success."
Whichever way you splice it, though, the fact remains: These are two rivals duking it out in the postseason.
BU is a lock to make the NCAA Tournament, while a loss virtually knocks York's side out of contention, all one year removed from advancing to the Frozen Four.
"The hardest thing to do in any sport is end a team's season," Hickey said. "That's something you have to go in knowing they're going to come in playing their best game of the year probably, and they're going to come out hard in those first 10 minutes.
" … As much as you want to play well and as excited as you're going to be, you want to keep your emotions calm," Hickey added. "You don't want to come in too excited and start making silly mistakes. It's a tough balance there."