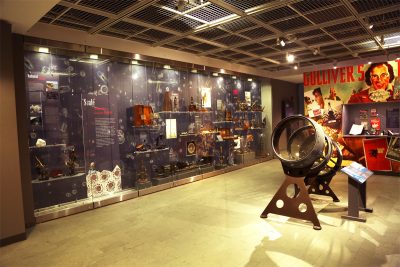 The world has long been exposed to movies and television shows regarding the distortion of scale. "Alice in Wonderland," "Ant-Man," "Stuart Little" and many other forms of art in different mediums allow people to travel into miniature worlds away from their hectic daily lives. Opened last Friday, the Collection of Historical Scientific Instruments at Harvard University presented the new exhibit, "Scale: A Matter of Perspective," which focuses on this desire to change the size of reality.
The one-room exhibition, running until June 23, showcases the concept of scale through many different levels. While walking around the room, one can examine scale as seen in society and how it has aided scientists throughout history.
Sara Schechner, the curator of the Collection of Historical Scientific Instruments, discussed the inspiration behind this specific event.
"The Harvard Museum of Natural History was planning an exhibition on microbes but this got [Harvard Museums of Science and Culture's] director, Jane Pickering, thinking about microscopes at the Collection of Historical Scientific Instruments," Schechner said. "We talked about it, and I suggested exploring not just the microscopic world but the macrocosm and broadening it out to scale large and small."
The scientific portion of the exhibit focused on how the use of microscopes and telescopes have changed the way scientists can see certain objects. One wall of the exhibit contains a variety of microscopes that have benefited research in biology, archaeology, geology and other areas of science.
Kim McCall, chair of the biology department at Boston University, said she believes that this event could help inform the public more about the topic of microscopy.
"Microscopy is an essential component in biology research and many professors at BU spend many hours on microscopes," McCall said. "I think [the exhibit] sounds really interesting."
While the exhibit shows how miniature objects are enlarged for studying, another part of the exhibit depicts how scientists also take objects on a massive scale and make them visible to the human eye. Through the use of telescopes, scientists were able to gain a better understanding of life outside of Earth.
Elani Elizondo, a freshman in BU's College of General Studies, attended the exhibit. She said she enjoyed seeing these scientific milestones regarding scale laid out in front of her.
"By addressing scale in this way, we can really see how far science has come," Elizondo said. "It also made me reflect on how big the world is and how much there is to discover still."
Schechner said she believes this exhibit is important and relates to society today.
"We see scale throughout our daily lives and navigate through it without thinking too much about our own changing rank. The world is teeming with things larger and smaller in scale than us in size or social hierarchy," Schechner said. "We also display or signal our place in the world by our clothing and personal accouterments, our associations, tastes and politics. This exhibition invites visitors to think about their place in the world in ways they might not have done before."