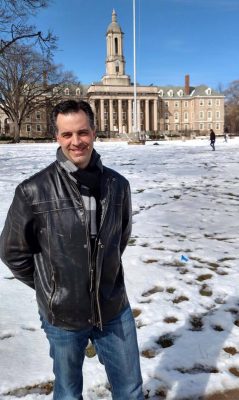 A dramatic breakup? Always raining. Protagonist reaches his goal? Always sunny. Innocent child at night, alone and at home? Always storming. Be it movies or books, the arts have emphasized a growing correlation between weather and human emotion.
Somehow the mere presence of clouds or a breeze can alter moods, mirroring the gloominess of the clouds or the harshness of the wind. Aside from that, weather also more practically limits human actions binding safety to the indoors during hurricanes or basements during tornadoes.
Given the weather's significant effect on human abilities and attitudes, it can be important to truly understand how and why Earth's atmosphere works the way it does.
One individual determined to understand such aspects of Earth. Joseph Venuti, aviation meteorologist and program lead-benefits specialist at Massachusetts Institute of Technology, recently shared his understanding to an audience of children ages 7 to 15 at MIT on Saturday.
Understanding the importance of cultivating youth interest in certain fields, Venuti recalled the moment he fell in love with weather at the age of five in 1978. When Venuti learned of an intense blizzard spreading amongst the Northeast leaving two to four feet of snow in a matter of days, an undeniable curiosity being to form.
"I became hooked to weather ever since," Venuti said.
Thus, during the workshop, Venuti made it a point to explain weather using familiar concepts to young children and adolescents.
"We started with the simple water cycle and how that creates clouds," he said. "Using [the water cycle's] basic principles, we explained how all weather stems from it including probability of rainfall and lightning."
By establishing a clear connection between rudimentary processes and complex weather patterns, understanding the often-intimidating field of meteorology appears more attainable.
Aside from his passion for teaching, exemplified by acting as a teaching assistant at Pennsylvania State University, Venuti broadened his interests in jobs within the field of meteorology. Such jobs included interning with the MIT Lincoln Lab, working with the Air Force and broadcasting for roughly 20 years.
"After I went into the research side of meteorology, I had a friend who needed a break from his broadcasting job, so I decided to take over for him and fell in love with it," Venuti said.
His love and passion for broadcasting led to jobs with WCVB, Tribune Broadcasting and smaller stations in Pennsylvania and Portland, Maine, he said.
Throughout his journey, Venuti held onto to his stable, never-changing passion for weather.
"I love understanding how the weather works such as how hurricanes form and what in the atmosphere can actually do that," he said. "I love the challenge of getting forecasts right."
With unwavering dedication to improving people's understanding of weather, Venuti also commended the increasing use of technology in advancing the field of meteorology.
"The more we know about technology, the more accurate we can be," Venuti said.
More specifically, Venuti touched on technology's remarkably strong effect on forecasting.
"So much has changed in the past 20 to 40 years due to technology. Before they used to do half-day forecasts, but now I see 7 to 10-day forecasts," Venuti said.
Paralleling the theme of change exists the severe changes in weather, referred to as climate change or global warming. Although some believe in mankind's detrimental effect on the atmosphere, others remain adamant that the Earth isn't suffering from such environmental damage, stirring heat in, most notably, the United States' political climate.
Rather than attacking others for opposing views, Venuti chose to take a more light-hearted approach.
"As a pure scientist, I am still learning something new everyday," he said. "So it is really important to keep an open mind."
Edward Loechler, a professor of biology at Boston University, furthered Venuti's encouragement to stay open and aware of environmental changes, though he took a more decisive stance.
"Climate change is real," Loechler said. "We need to do something about it."
Venuti said he found it extremely important to treat the Earth with respect and create as little damage as possible.
"I've been learning about the ozone layer since grade school," he said. "I hope that by getting kids interested in science, they can come up with some changes that will help us."