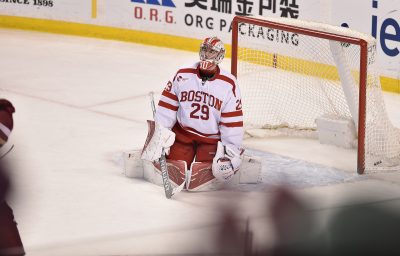 With three minutes left in Friday night's Hockey East semifinal game at TD Garden, the No. 7 Boston University men's hockey team showed signs of life.
It was trailing No. 14 Boston College, 3-0, only for head coach David Quinn to pull freshman goaltender Jake Oettinger. With an extra attacker, sophomore forward Jordan Greenway and freshman forward Clayton Keller found net, and BU (23-11-3) seemed primed for another postseason comeback.
Those hopes were too little too late, though, as BU lost 3-2 to the Eagles (21-14-4) and now will be a spectator in Saturday's title game between its bitter rival and No. 4 University of Massachusetts Lowell.
"It's easy to play from behind 3-0," Quinn said. "Then obviously we did some crazy things with the goalie pulled there twice and had chances to tie it, but again – I've mentioned this before throughout the last few weeks – we're playing with fire. We played with an inferno tonight."
Before channeling its comeback mojo, the second period proved fatal for Quinn's side.
Oettinger was twice beaten glove side, with the first through BC's Julius Mattila just 1:58 into the second stanza. The Finnish forward fired a wrister home from the left circle.
With momentum in hand, the Eagles made it 2-0 with 13:21 gone in the frame, as senior Ryan Fitzgerald capped off a shorthanded chance for his 10th tally of the year. The sequence began at BU's offensive blueline, with freshman defenseman Chad Krys unable to keep a loose puck in and deny a 2-on-1 rush.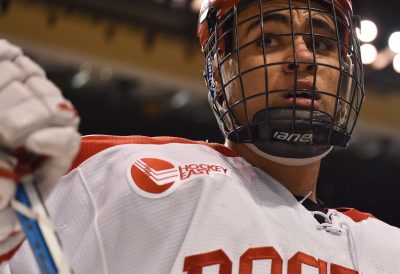 "We've been playing with fire all year, and it's just something that when they got that first one and then they got that second one, we didn't react the way that we normally do," said senior defenseman Doyle Somerby of a frame in which BU was outshot 17-10. "It's a tough time to do that, but we didn't really pick ourselves off and dust ourselves off the way we have in the past. It showed."
Any hopes of a comeback were quickly cut short by Ryan Fitzgerald just 58 seconds into the second period. The senior forward jammed home a loose puck atop Oettinger's crease, sullying his 32-save performance.
The loss, however, wasn't for a lack of chances by BU, which forced goaltender Joseph Woll into 42 saves. There were chances on the power play, too, but the scarlet and white couldn't capitalize on any of its five chances.
If it weren't for some last-minute heroics, the Terriers would have been shutout for the third time this season, with the last coming nearly four months ago.
"Those are two world-class goaltenders," said BC head coach Jerry York of Oettinger and Woll. "They'll both be at World Juniors again next year, so if you look at the American goaltending situation at that age, those are clearly the two best. … If you enjoy goaltending, you saw two excellent goaltenders tonight."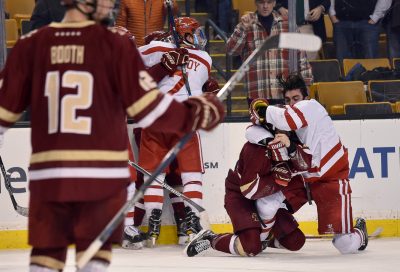 Looking down the road, BU enters the NCAA Tournament on a down note, all after amassing a 4-1-1 run before Friday night.
Come Sunday's selection show, the Terriers will find out which regional they go to – either Fargo, North Dakota; Providence, Rhode Island; Manchester, New Hampshire; or Cincinnati, Ohio. Furthermore, the Terriers are likely a two or a three seed, but Saturday's results could further shift the tournament's complexion.
As a result, Quinn heaped praise on York's coaching ability and didn't want to reflect too much on the national tournament.
"This is going to hurt, this is going to hurt for awhile," Quinn said. "We've got to move past it quickly because we have a tournament to play starting next weekend, and who knows where we're going or who we're playing.
"That stuff's irrelevant, but we had a good enough season where we know we're in the national tournament, which is a great feeling," Quinn added. "But that's not going to take the sting away from tonight's loss, that's for sure."