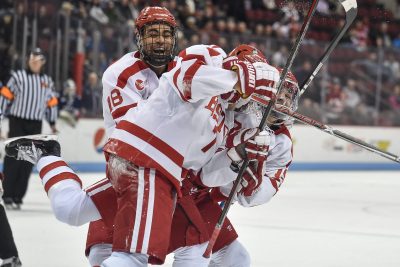 The No. 7 Boston University men's hockey team is Fargo, North Dakota bound for the NCAA Tournament.
Gathered in the players lounge at Agganis Arena, the Terriers (23-11-3) learned they'll take on No. 11 University of North Dakota on Friday afternoon as part of the West Regional at Scheels Arena. The Fighting Hawks' (21-15-3) campus is roughly 80 miles from Fargo, giving them home-ice advantage.
The scarlet and white weren't deterred by that, though, even with North Dakota looking to defend its 2016 national title.
"It's an incredible opportunity," said BU head coach David Quinn. "If there's a game as a student-athlete that you want to play in, this is it. I know people look at it and go, 'Oh, you're going to Fargo to play North Dakota.' Who wouldn't want to play in that atmosphere? It's against one of the most storied programs in the country. Our rivalry goes deep and long."
There's some familiarity with North Dakota, too.
Quinn played against them in the mid 1980s, while the senior class – then freshmen – welcomed then-assistant coach Dane Jackson's team to Boston for two games in November of 2013. There's also 2015's Frozen Four clash, which BU won, 5-3, to advance to the national title game.
History aside, freshman forward Clayton Keller said the Terriers have "the talent to do special things," even in a hostile environment.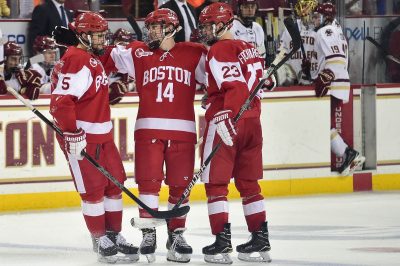 "It's going to be a great atmosphere there in Fargo," Keller, the owner of 42 points said. "Everyone's going to be cheering for North Dakota obviously, and I think we're really excited and looking forward to it. World Juniors and Canada, there's a little more people at that game and I think we handled that alright."
The Terriers will get settled in Fargo on Wednesday, all with the hope of advancing to Saturday's regional final. That potential clash will come against either No. 3 University of Minnesota Duluth or No. 13 Ohio State University, the other semifinal matchup.
Getting to that point will be no easy task, though.
North Dakota boasts three high-level forwards in Shane Gersich (37 points), Tyson Jost (35 points) and Brock Boeser (33 points). There's also Tucker Poolman, a Winnipeg Jets draft pick, who has registered 30 points as a defenseman. He was injured, however, in North Dakota's National Collegiate Hockey Conference title loss on Saturday to Duluth (25-6-7).
"I watched them play against Duluth last night, so a really deep team, the defending national champions," said freshman goaltender Jake Oettinger. "It's never going to be easy to dethrone them. It'll be close to their campus, so it'll be a huge challenge for us."
BU, however, has been no stranger to hostile environments throughout the 2016-17 season.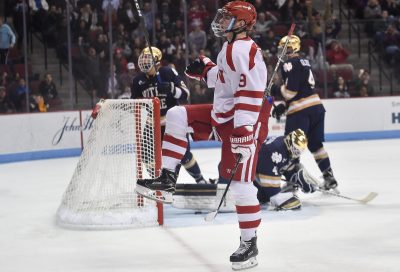 It ventured to the University of Denver and the University of Michigan during first semester, and holds an 8-6-1 record on the road. Contrastingly, North Dakota amassed just an 11-8-2 record at home throughout the 2016-17 season.
From those experiences, senior defenseman and captain Doyle Somerby said BU has matured.
"I think we've grown a lot since the first half where we were out there," Somerby said. "We've had a lot of guys play in big moments. This is going to be another chance to build a bridge and work together."
Intricacies aside, the Terriers recognized that the NCAA Tournament represents a clean slate and their final chance to win a title. To this point, BU has failed to capture the Beanpot or Hockey East Tournament titles, but did emerge as co-champions of Hockey East's regular season.
From that, Keller said North Dakota poses a stiff challenge, but Friday's game will be about "realizing that this is the last time this group is going to be together no matter what." As for Somerby, he said now has the "chance to end the season the right way and write the right script."
And, most directly of all, Quinn said that he has confidence in his team, even though it lost Friday night, 3-2, to No. 14 Boston College in the Hockey East semifinals.
"We played really well in the first period on Friday night," Quinn said. "If we come out with that type of focus and speed and effort, then I like our chances."
.@TerrierHockey reacts to learning it's heading to Fargo to take on @UNDmhockey. pic.twitter.com/UU5p4PrTpI

— Jonathan Sigal (@JonathanSigal) March 19, 2017