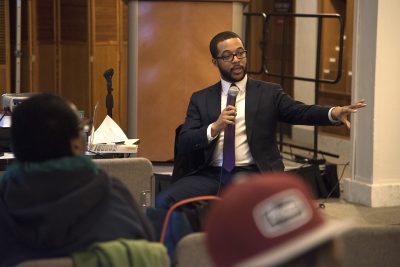 The six-month extension of the Body Worn Camera Pilot Program, announced March 13 by Boston Mayor Martin Walsh, proved controversial, with the Boston Police Department speaking out in favor of the extension and the Boston Police Camera Action Team pushing against it.
BPCAT, the organization responsible for the body camera initiative, strongly opposes the extension. It has been at the center of this debate, holding regular community forums on the issue since Feb. 1, and most recently on Monday night.
BPD Lieutenant Detective Michael McCarthy wrote in an email to The Daily Free Press that the program was extended in order to collect more data on police activity during Boston's busier summer months.
"The program is being extended to ensure that enough data can be looked at to make an accurate and well informed decision as to whether or not we will implement a permanent program," McCarthy wrote. "It is necessary to extend the program so data can be collected through the summer months which tend to be our busiest and the time during which we have the most community interactions."
The police department has collected more than 2,500 hours of video so far, and are averaging around 104 videos per day, according to McCarthy.
McCarthy addressed complaints of issues with the transparency of the program, asking residents to engage with the police department.
"To those who question the transparency of the program we would encourage they attend one of the numerous open public meetings we have had and continue to have on the program itself," McCarthy wrote.
This answer has not satisfied all parties involved in the development of the program.
Segun Idowu, co-coordinator of BPCAT, said he has received nothing but positive reviews on the pilot, including from BPD officers.
"When we spoke to [officers] about this program, they were all in favor of this program, albeit for different reasons," Idowu said. "Officers want this program because, one officer said to me, they want us to see how we treat them."
Given the positive outlook, Idowu said he is confused as to why there is an extension at all.
"None of us are willing to wait for them to get data to prove what they've been saying [is] correct," Idowu said. "Why extend it to collect data if you've already determined it's been a success, why not start talking about how to roll it forward like every other city in the country?"
Idowu said he believes the delay may be the product of election year stress on the mayor.
"The pilot is still kind of seen as a Black Lives Matter versus Blue Lives Matter issue," Idowu said. "So in order to avoid looking like he's choosing a side, my belief is that the mayor is trying to play both sides and extend the pilot, make himself look good, and at the same time delay every officer having to wear these cameras prior to the election."
Several people attended one of BPCAT's public forums on this issue on Monday evening at the Boston Public Library. Idowu led the meeting, giving a short presentation on the program and then leaving the audience to discuss.
Participants of the meeting expressed support of the program, but echoed Idowu's confusion about the extension.
Julian Green, 51, of the South End, said he supports the body camera program because it provides powerful information.
"I think it's important to have information that can dispute what one group of people is saying compared to another group of people," Green said. "I think it's one of the most important things you have to have."
Green said he believes the extension only puts limits on the possibility of a full program.
"I don't think [the program] should be something that should be limited, I think it should be mandatory and I think it should be policy," Green said. "At the end of the day if you want to get to the truth, and you're really about serving and protecting the people, why should it be limited?"
Christopher Lucy, 61, of Wellesley Hills, said he is in favor of a full body camera program because it would allow for more clear-cut decisions in court.
"I think that the more and better quantity of evidence that you have in court … there's more chance that you're going to come to a position of justice in any decision," Lucy said. "We want to say truthful evidence in court, that's what's important."
Lucy said he believes the extension may be due to a variety of fiscal or social issues.
"I'm not thinking there's any good solid logistical reason to have a delay, except that you might be waiting to see how the dominoes fall on all this, because there are different communities involved," Lucy said.
Janet Forney, 49, of Fenway, said the extension may give the BPD time to work out problems in their system.
"I'm not sure that's enough time, so I don't think an extension would be a bad thing," Forney said. "Everyone's held accountable, but then there is that privacy issue that kind of nags at me a little bit."