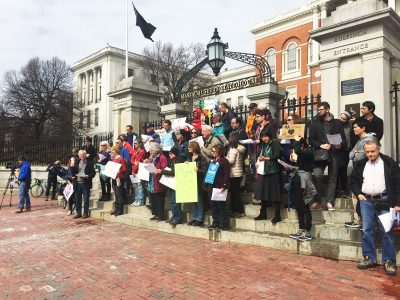 Approximately 50 people rallied outside the Massachusetts State House Tuesday morning for a demonstration titled "Take Action Tuesday" and encouraged Gov. Charlie Baker to sign the Safe Communities Act declaring Massachusetts the first sanctuary state in the country.
Several Boston advocates attended the rally, as well as many City Councilors and immigrant protection organizers. Participants sang songs including Baker's phone number, which organizers encouraged participants to call as often as possible.
Ben Echevarria, the executive director of The Welcome Project, one of three immigrant advancement organizations supporting the rally, told The Daily Free Press before the rally that his organization believes immigrants contribute positively to communities across the state.
"We understand that immigrants, whether documented or not, really try to work hard to be great members of the community," Echevarria said. "We also know that when immigrants feel welcome that it changes the structure of business and it actually enhances what a community has."
Echevarria said much of the backlash against immigrants results from false accusations of stealing jobs or breaking laws.
"All we're doing is scapegoating," Echevarria said. "We're trying to blame [immigrants] for all our problems. Even if … you were able to remove every single undocumented person, those problems would still be here."
Gladys Vega, the executive director of the Chelsea Collaborative, another social justice organization co-sponsoring the rally, told The Daily Free Press before the rally that her neighbors feel safer because of Chelsea's status as a sanctuary city.
"We don't care how you enter the country," Vega said. "What we care [about] is that you obey local laws and state laws. Until you have status, we're going to welcome you, we're going to work with you [and] we're going to care for you as much as we can."
Abby Brockman, an organizer for Indivisible Somerville, a branch of hosting organization Indivisible MA, addressed event participants on the changes the Safe Communities Act fights for.
The Safe Communities Act highlights the protection of undocumented immigrants and prevents local officers from discriminating based on known race or collaborating with immigration officials, Brockman said during the event.
"We don't want resources being used to support [President Donald] Trump administration's expanded immigration policies," Brockman said. "We really want to keep a clear line between what goes on in Massachusetts and whatever the Trump administration is trying to do."
Massachusetts Rep. Denise Provost said the protection of immigrants is important to her community because one-third of the residents are foreign-born.
"We want to be a community that embodies American principles of equality and freedom," Provost said. "How can you be free and equal if there is this cloud hanging over your [immigration] status?"
Brockman and Provost joined the crowd in chanting, "When immigrants are under attack, what do we do? Stand up, fight back."
Cambridge City Councilor Marc McGovern spoke about Cambridge's status as a sanctuary city, but said that title is not enough to protect immigrants under the current administration.
"Up until Mr. Trump was elected, calling yourself a sanctuary city was enough," McGovern said. "But since Mr. Trump has been sworn in, we have to do so much more because of the hatred and racism that's coming out of the White House."
Many participants said they felt passionately about protecting their fellow Massachusetts residents.
Kasey Lange, 28, of Allston, said he came to the rally to help protect the rights of immigrants under attack by Trump's administration.
"We're talking to not just Charlie Baker," Lange said. "We're [also] pressuring a lot of democratic leadership in this state, which is really pretty conservative in a lot of ways."
Neal Lesh, 47, of Somerville, said he came to the rally because he thinks sanctuary states are necessary nationwide.
"The threat to the immigrant population is just really scary and really sobering to me," Lesh said. "I hope we're the first of many states to [become a sanctuary state]."
David Penn, 34, of Newton, said the world is too interconnected now to shut out problems happening globally.
"We can't pretend that we don't know what's going on in other countries and we can't pretend that things going on in other countries don't affect us," Penn said. "We have to figure out ways to live together."