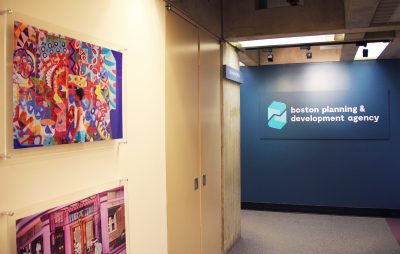 The Boston Planning and Development Agency approved a total of nine new development projects, valued at approximately $157.7 million, according to a Friday press release from the BPDA.
Of 91 new residencies created through the projects, 47 will be affordable units. The projects will be completed by developers including the Vietnamese American Initiative for Development and Boston College, according to the release.
The city estimates that by the year of 2030, approximately 700,000 residents will live in Boston. Mayor Martin Walsh's initiative, Housing Boston 2030, plans to create housing "across demographics" and will help create 53,000 new units across the city, according to the City of Boston website.
Gina Physic, a spokesperson for the BPDA, wrote in an email that development projects like these will help to establish communities.
"Development projects generate community benefits in a number of ways, from creating jobs and funding for neighborhood parks, to the opening of Hubway stations and contributions to the Neighborhood Jobs and Housing Trusts," Physic wrote.
Eric Fellinger, the director of real estate development for VietAID, said VietAID purchased the land years before they started to plan their project, a residential building with five units to be set aside for homeless people.
"This project began several years ago with the Dorchester Bay Economic Development Corporation," Fellinger said. "We entered in agreement with Dorchester Bay to buy the 195 [Bowdoin Ave.] property, and then we proceeded to get some pre-development funding and got together an application for the BPDA."
The timeline for the construction of the property is expected to be about two years, Fellinger said.
VietAID will create 60 construction jobs and provide 41 affordable residential units as they work on the project, according to the release.
While the approved projects will create jobs and affordable housing in Massachusetts, they could also have negative environmental impacts, some experts say.
David Kimbro, a professor of community ecology, conservation biology and biological invasions at Northeastern University, said human development can leave long-lasting effects on the environment, which can later transfer back to humans.
"There are a lot of studies that have unequivocally shown that human development changes the organization of nature and how nutrient cycle, water quality, etc., and that can actually feedback the effect into society," Kimbro said. "It's a two-way street and it's pretty well established that urbanization completely transforms the way nature looks and operates."
Kimbro said there are existing technologies that can help the environment while simultaneously serving to meet the developers' goals.
"Whether it be making your building out of materials so it stays cooler in the hot summer and uses less energy to cool it," Kimbro said. "And certainly, you can use certain strategies that civilization took advantage of hundreds of years ago. You could also enhance the amount of trees to promote carbon sequestration, as well as give habitat to invertebrates [and] birds."
Kimbro said while these environmental commitments take time to see a return on investment, they are ultimately worth it in the long-run.
"There's a host of strategies, but there's the problem of short-term cost investment," Kimbro said. "The benefits you accrue by developing sustainably are typically long-term."
Several Boston residents said the development projects are a step in the right direction, but the current number of affordable housing options would not be enough to have a significant impact on making housing in the city more affordable.
Scott Weissman, 38, of Brighton, said rent hikes are causing residents to pursue more affordable living options outside of Boston, and additional projects could prevent this exodus.
"I know right now that rents increase every year," Weissman said. "I've been here four years, and every year my lease goes up by 50 to 100 dollars. I just know that rent in Boston is crazy and it's driving people out. I think more [affordable housing] is needed."
Latia Woodward, 21, of Roxbury, said there are many Boston citizens who need homes yet are unable to pay for them, and therefore, more than 41 units of affordable housing are necessary.
"There definitely should be more because there are a lot of homeless [people] here," Woodward said. "I volunteer at a shelter here sometimes, so there are a lot of people here who need homes. There should be more than 41 units. It can get more people off the streets and motivated to get a job and keep that home."
Althea Redict, 52, of Dorchester, said the housing developments are essential because the cost of living in Boston is far higher than what many residents are able to afford.
"Because of the economy, there are more and more homeless people out there," Redict said. "The majority of the jobs are lower-paying, so most people can't afford the rents for the city of Boston at this time. I'm noticing there are more and more people in shelters these days."