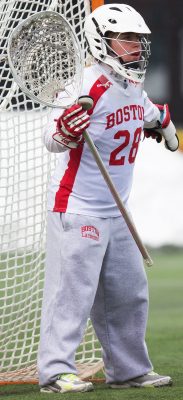 After a 1-4 start to the season, the Boston University women's lacrosse team has rattled off two straight victories, most notably its recent game, a 13-8 win against Patriot League rival Bucknell University.
Bucknell (5-3, 0-1 Patriot League), who was picked to finish sixth in the league, has now started off league play with a loss for its 10th straight season, something it has not recovered from.
Meanwhile, the Terriers (3-4, 1-0 Patriot League), picked to finish fourth in the Patriot League, have won their first league matchup for the past four years, something that BU head coach Liz Robertshaw claimed is vital for a successful season.
"It sets us up in a good mindset moving forward," Robertshaw said. "We had a lot of goal scorers against a very tough team and starting off with a win is how you would want to start any conference play."
Meegan provides steady backbone for defense
Senior goalkeeper Caroline Meegan has proved to be the backbone of this young Terriers squad. The Lutherville, Maryland native was BU's only representative on the Preseason All-Patriot League team and has played like it thus far.
Meegan has allowed fewer than 10 goals in two consecutive games and in three games overall this season, all of which have resulted in Terrier victories. Meegan also fares well when stacked up against her Patriot League counterparts. She currently ranks first in the Patriot League in saves per game (12.33) and second in save percentage (.503). It is Meegan's strong play that has kept the Terriers close in several narrow victories and in losses as well.
What isn't always apparent is how Meegan's play allows the offense to truly thrive. Robertshaw notes that a strong goalkeeper has allowed her team to be much more aggressive.
"The fact that she is so solid in the cage allows our defenders to take a lot more chances," Robertshaw said.
Robertshaw insisted that it is more than Meegan's play on the field that gives her team confidence.
"Whether it's her voice, or anything the team needs, [Meegan] has been there to back them up," Robertshaw said. "Her ability to play so well really sets the bar high and encourages our team to be aggressive all over the field."
This level of success is nothing new for Meegan. She has played in at least 16 games each season since her freshman year. Over the past two seasons, Meegan has been named to the All-Patriot League Second team.

Balanced attack aids with loss of big senior class
After graduating a sizable senior class, scoring production was a big question for Robertshaw and her coaching staff heading into the season. For the Terriers, the production has come from several different players, as BU has no goal or point scorer in the top 10 in the Patriot League, signaling a balanced attack.
"We knew we were going to need more players to step up and that it was going to be a challenge," Robertshaw said.
The Terriers' offense features five players who have scored at least 12 points thus far. This includes freshman attacker Kailey Conry (17), senior attackers Elisabeth Jayne (16) and Taylor Hardison (14), junior attackers Mickenzie Larivee (12) and Avery Donahoe (12).
While Conry has been an offensive force from day one, her fellow classmate midfielder Mackenzie Howe has noticeably gotten more comfortable on the field with each game. After only recording one goal through her first four games, Howe exploded for four goals on the road in BU's win over Bucknell.
The mix of young and experienced players have paced the Terriers offense, which has averaged 9.3 goals per game.
While none of them rank among the Patriot League leaders, Robertshaw has been more than pleased with their performance.
"Our defense has gotten better at pushing up the field, and that is something we are still pushing our midfielders to do more of," Robertshaw said. "Our goal is to have multiple players to be in 20's for points rather than a few scoring in the 40's. We need a lot more scoring threats."