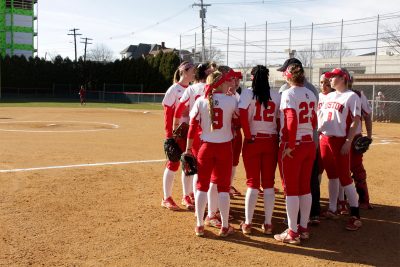 Although the Boston University softball team's losing trend continued on Thursday afternoon, falling 4-2 to Bryant University, freshman pitcher Kali Magane was a bright spot, showing promising signs of a potential ace for the next four seasons as she engaged in a tight pitching duel with Bryant's (5-20) Brandi Burgin.
Magane went seven strong innings, recording every out for the Terriers (8-15), allowing just two runs and two hits. Burgin also pitched a complete game, allowing nine hits but just one earned run.
The Wrentham native further established herself as BU's number one starter, as she currently leads the team in innings pitched (65), ERA (3.23) and complete games (3).
Despite the loss, BU head coach Ashley Waters was still pleased with the young pitcher's performance.
"[Kali] does a good job," Waters said. "She's scrappy. Regardless of her innings, she's had some tough innings, but she continues to go at hitters, which is something I love about her."
She was good early and often, blanking the Bulldogs through the first four innings while escaping from numerous jams. In the first inning, Bryant left three runners on base, and in the third inning it left two on.
Magane also showed great resilience toward the end of the game. She was briefly replaced by senior Makinna Akers, who did not record an out, in the fifth inning, so Magane came back in the game and shut down Bryant for the next 2.1 innings, showing no signs of rust from briefly coming out.
Waters praised Magane's mental toughness despite being a freshman.
"When you spend your whole entire life being told you're too small or not good enough or this or that, I think you create something inside you that's a little bit tougher than most," Waters said. "I think to be playing Division I softball and going up against these teams and doing as well as she's doing, I think she has a little chip on her shoulder. She has great composure."
While Magane was dealing, the offense got on the board in the first, scoring two runs. However, that would be BU's only offense for the day, as Burgin on the other side settled in as well, stifling the Terrier offense after it looked like BU would run away with it after the first inning.
Although Burgin was dominant, for a while it did not seem to matter as long as Magane was on the mound. The pop into sophomore catcher Alex Heinen's glove was a clear indicator of Magane's effectiveness. Bryant showed no signs of scoring up until the fifth inning.
Magane started the inning as usual, inducing a groundout to senior shortstop Moriah Connolly. Then the freshman had her one slip up of the game, serving a belt-high pitch that Bryant freshman Bianca Mastropietro drove over the left-field fence for a solo home run.
"I thought Kali had a hard time getting her grip just with the ball [in the fifth] since it was cold," Waters said. "She had more walks than usual for her, and that's not the ideal setting. If she did not walk that last kid, I probably would've left her in to finish [the inning]."
Bryant would go on to score three more runs in the inning, but Magane's dominance in the final innings gave her team a chance it did not capitalize on.
As the Terriers move into the Patriot League schedule, having a reliable pitcher like Magane will be huge.
"She's going to play a major role going into Patriot League conference play for us," Waters said. "We're excited about what she's going to do here."