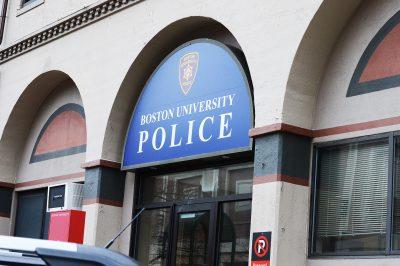 The Boston University Police Department has received report of more than 190 cases of larceny on campus since the beginning of the 2016-2017 school year. BUPD recently partnered with BU's student-run public relations agency, PRLab, to start a new campaign that helps students keep their belongings secure, called #nobelongingsleftbehind.
Boston University Police Acting Chief Scott Paré said although 190 thefts is actually less than the number of reports from previous years, larceny is still the number one crime at universities.
"Our students feel so comfortable here because our crime rate is low," Paré said. "They leave their belongings unattended. Most of the larcenies we see are 'I left my laptop unattended, I left my backpack unattended, I left my coat unattended, and it's gone.'"
So far this year, 190 people have reported stolen items. Don't let that be you. #nobelongingsleftbehind

— BU Police Department (@BUPolice) March 15, 2017
Paré said the campaign focuses on "stop, think, secure," which encourages students to reconsider whether their belongings are safe before leaving them, or better yet, just taking them along.
"[BUPD has] also come up with small cards and they've been walking around in the library and the [George Sherman Union], and when they see items unattended they're putting their card right on top of them," Paré said. "[The cards say] 'before you walk away from your property, stop, think, secure,' and it has the BU Police number on it and on the other side it says, 'no belongings left behind.'"
Paré said the easiest way to combat larceny is for students to keep an eye on their own belongings at all times.
"When we read reports, it's over and over, 'left unattended, left unattended,'" Paré said.
BU spokesperson Colin Riley said the BU community needs to be reminded to lock their doors, secure their offices and protect their property.
"There are people who take advantage of the open campus and will make away with things that are unattended," Riley said. "That's the nature of a larceny — they're not breaking and entering, they're just picking things up."
Riley said BUPD has done campaigns in the past to encourage students to be responsible for and look after their own property, but it is still a big issue.
"Every single day I can walk around campus and see people getting up and going to the restroom or going to get a drink or something and they leave their backpacks and their laptops or their cell phone unattended," Riley said.
Riley said bike theft is also very common on campus when students use easily cut cable locks instead of sturdier U-locks to secure their bikes.
"We had a campaign where the BU police had someone pretend to be a bike thief and go up and cut a cable lock and take the bike, and people all walked by without saying anything," Riley said.
Several students said they have yet to have anything of their own stolen, but think the campaign will be a good reminder to secure their belongings more often.
Brandon Morgan Longo, a freshman in the College of Engineering, said BUPD's campaign will hopefully encourage students to take their things with them when they step away.
"If they didn't see them putting [the card] down, then it's like, 'Wow, that really could have happened,'" Morgan Longo said. "If that were to happen to me I'd be like, 'Wow, I probably shouldn't have done that. Probably should have taken my stuff.'"
Christian Rose, a senior in the College of Arts and Sciences, said he was surprised by the number of reports but thinks other schools most likely have the same problem.
"I think it's probably more on the students [than the university]," Rose said. "It'd be interesting to see, comparing school to school."
Maria Rondon, a sophomore in CAS, said perhaps the campaign should also target those doing the larceny, rather than just those getting their things stolen.
"It's more what the people themselves think and whether it's good about whether they should steal or not," Rondon said.
However, Rondon said the campaign is effective in that it directly targets students who are leaving things unattended, rather than simply sending an email with the number of larcenies to the whole student body.
"My laptop or whatever could have been another stolen item based on this paper I got," Rondon said. "They also personally feel affected because it could have been their stuff."