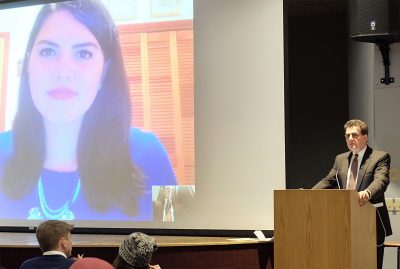 President Donald Trump's apparent disdain for "phony lowlifes" and "dishonest reporters" was projected in a brief video to a group of Boston University students at the College of Communication on Wednesday. The video, created by Zoë Mitchell, a first-year graduate student studying broadcast journalism in COM, shared how some journalism students feared not only about the future of their careers, but also the future of their lives.
"Stay Safe: Reporting in the Age of Trump" was a discussion organized by veteran journalist and COM professor Christopher Daly. The talk highlighted the work and career stories of present and past Terriers and other professionals.
"In the last few years, we've seen an acceleration of threats of various kinds to journalists," Daly said. "I hope that today we can … generate a set of practical tools and responses for helping journalists stay safe on assignment."
Former CBS News reporter and BU alum Sopan Deb, NBC reporter and BU alum Melissa Adan and second-year BU Ph.D student Daniel DeFraia were among the speakers. Additionally, independent journalist and filmmaker Jane Regan joined the panel.
Adan, the panel's first speaker, is a reporter for NBC 6 South Florida who studied journalism and political science at BU.
Her first risky journalism experience occurred when she was assigned to cover the Boston Marathon as a student for an online journalism class, she said. She was on her way to the finish line when the first bomb exploded.
"It was definitely a time where I thought I was in the safest environment possible, but the danger happened to come to us and it was unexpected," Adan said to the crowd via Skype.
However, Adan noted that physical safety is not always her primary concern.
"Being a female … [I feel like] Trump rhetoric is directed towards me instead because 'you're a woman, so you believe in this,' and 'you're the press so you believe in this.'"
Currently, Adan is covering Cuban and Haitian migration. She often covers migrants who have been caught by the Coast Guard, and stated she typically worries more for the safety of the migrants than for herself.
After the call, award-winning freelance filmmaker Regan took the podium wearing a helmet and bulletproof vest. She showed a series of hard-hitting videos taken in Haiti during protests against the Haitian government.
Regan spoke of her experience getting shot while on assignment as clips of stampeding protesters, violent rallies and screaming children flashed on the screen.
The three speakers in the panel are Deb, DeFraia and Regan, who took the stage next, with COM Dean Thomas Fiedler as the moderator. All three panelists agreed that it is imperative that media colleagues protect each other and keep in mind that, in Regan's words, "journalism really is a team sport."
"When something happens to one reporter, it often happens to every reporter," Deb said, regarding how he handles risky situations.
Deb, who worked as a campaign embed following Trump's campaign up until the end of his election, stressed the importance of never being alone on assignment, especially at events such as protests and rallies.
DeFraia and Regan also both explained that how one reacts in dangerous situations varies based on personal risk tolerance.
Regan expanded on the emotional impacts of this and stated that finding a balance between empathy and accomplishing the task at hand is imperative.
"I'm a human first, before I'm a journalist," Deb added.
The conversation shifted to the First Amendment in the current media and political climate. Deb commented that by excluding several major media outlets from press briefings and arresting journalists, Trump exhibits the impression that the United States does not care about the free press.
DeFraia added this is where organizations such as the Committee to Protect Journalists become instrumental in guaranteeing the liberty of the press and an informed democracy.
As the panel concluded, Deb, Regan and DeFraia stressed the importance of maintaining journalistic integrity while staying safe in the field. Their impactful stories appeared to resonate with the undergraduate and graduate communication students in attendance.
"I came in with different expectations … I thought it was going to be about Trump and the election, but it was more than that," said Hannah Petosa, a freshman in the College of Communication. "As a film and television major, it made me look at journalism in a different light and realize how important of a field it really is."
Daly said while these new threats should increase people's awareness, they should not push people away from becoming journalists.
"We will try our best to always have your back," Daly said to the audience after the panel. "Please know that you are not alone and there are people by your side and we care about you. So go and do that important job, and watch your back."