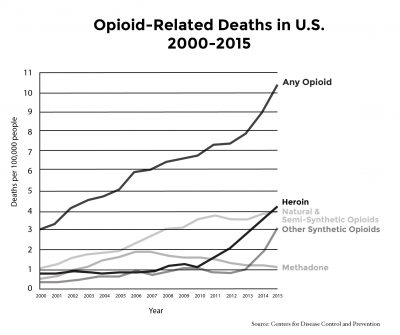 Thousands of opioid users die each year from unintentional overdoses, a number that continues to increase every year, according to the Centers for Disease Control and Prevention. This statistic requires more attention, and Boston Medical Center released a new study on March 23 to attempt to provide answers.
Pharmacies should proactively offer naloxone, commonly known by the brand name Narcan, to patients who meet certain criteria, the study found. Published in the Journal of American Pharmacists Association as part of the Maximizing OpiOid safety with Naloxone study, the research attempts to change the way that pharmacists provide naloxone, a drug that blocks the effects of overdose.
The MOON study is a three-year project funded by the Agency for Healthcare Research and Quality, said lead author Traci Green, a professor of emergency medicine and the associate director of the Injury Prevention Center at Boston Medical Center.
"It's what's called a demonstration study," Green said. "It's aiming to take interventions that we know are efficacious, like naloxone distribution, in settings that we know can do amazing things for healthcare, like pharmacies, and to demonstrate that this technology and intervention in naloxone can be provided in an optimal way."
The study was conducted through eight focus groups with four different types of participants in two states, including people who were using opioids to treat pain, people who were using them illicitly or were in recovery, their family members and pharmacists, Green said.
Hannah Posner, a freshman in Boston University's Sargent College of Health and Rehabilitation Sciences, noted the importance of medical research and said she hopes this study will be able to make a positive change.
"Studies like this one are very important in the medical field when it comes to making positive changes," Posner said. "I think that pharmacies being able to offer Narcan initially instead of waiting for people to ask for it will definitely change the way people think about addiction and will probably save a lot of lives."
In order to be eligible for the "opt out" model where pharmacies universally prescribe the drug, patients must be taking opioid medications at a high dose or must be taking benzodiazepine as well as opioids. This is because benzodiazepines interact with opioids in a way that can bring on respiratory depression, Green said.
"It's really for patients that might be filling those medications or their caregivers are picking them up for them at the pharmacy that naloxone might be really appropriate, medically indicated, and might resonate really well with patients as an opportunity to expand on and bring a pharmacist and a patient together about reducing their risk and care for the patient beyond the pharmacy," Green said.
Although pharmacists in Massachusetts and Rhode Island can currently offer the drug without a prescription, research showed that there was often discomfort and shame on behalf of patients or their loved ones in asking directly for naloxone, Green said.
"Naloxone is associated with overdose and overdose is associated often times with addiction," Green said. "With that dark place of stigma comes shame. Unfortunately, naloxone sort of sits in this crevice of stigma, but is also a really life-saving antidote."
Elissa Schechter-Perkins, associate director of Emergency Medicine Research at BU, also noted the stigma associated with naloxone.
"I think there is a lot of stigma around opioid use in general," Schechter-Perkins said. "Part of the challenge is creating a culture where it's acceptable to have naloxone available."
Americans use 80 percent of the world's opioids but constitute less than 5 percent of the world's population, according to a statistic listed by the American Society of Interventional Pain Physicians.
Schechter-Perkins said that historically, medicine may be to blame for this statistic.
"There was a big push recently in the medical community to make sure that pain was adequately controlled and that was a measure that hospitals were judged on," Schechter-Perkins said.
She added, "I think some of what we're seeing right now in the opioid problem stems from that push that happened over the last several decades."
One reason that pharmacies are not currently using the "opt out" model of offering naloxone may be the cost of the drug. There are four kinds of products available now, some of which cost thousands of dollars, Green said.
"The cost of the medications has been inconsistent," Green said. "Creating sustainable models for naloxone access is one of the reasons that we felt like pharmacies were really important, because community-based organizations are huge for naloxone access and will always be a cornerstone, especially for the most vulnerable."
There are still several steps to be taken in addressing the opioid crisis, Green said.
"In times where money is tight and our time is even tighter, we have to really focus in on the things that are working," Green said. "So I'm hoping that our findings can add to that and provide people with some tools for implementing and scaling of things like naloxone."