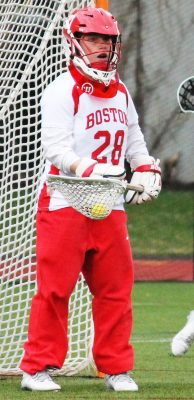 After blowing a five-goal halftime lead at Loyola University Maryland over the weekend, the Boston University women's lacrosse team will look to rebound in their Patriot League home opener against Colgate University on Wednesday.
The Terriers (3-5, 1-1 Patriot League) suffered a disappointing setback in Baltimore, when they were outscored 13-3 in the second half as Loyola (3-6, 2-0 Patriot League) dominated possession. The loss came after back-to-back wins over Fairfield University and Bucknell University, in which the Terriers seemed to be playing their best lacrosse of the season.
The trend continued in the first half against Loyola, but it all came crashing down in a disastrous second half.
After the loss, BU head coach Liz Robertshaw said that her team was in a mental fog and did not exhibit the fight she had been hoping for, particularly the underclassmen. Going into the home matchup with Colgate (4-4, 1-1 Patriot League), Robertshaw is eager to see how her team responds.
"I just want to see the team compete, and I think that's something we've seen the past two days in practice," Robertshaw said. "We've discussed things we weren't happy with from the weekend and we've adjusted them and moved on in practice, I think the team has done a good job with that. So I expect them to come out [Wednesday] and bring the competition level we've talked about."
The Terriers will certainly have their hands full with a dynamic Colgate attack, which ranks third in the conference in goals per game. Though the Raiders boast a well-balanced attack, they are led on offense by senior Isabel Kreitler and junior Haley O'Hanlon.
Kreitler leads the team with 22 goals and ranks fifth in the Patriot League with 2.75 goals per game. While Kreitler may jump off the stat sheet, O'Hanlon has proven to be a go-to playmaker. She boasts 18 goals and a team-high 10 assists, but what is most impressive about O'Hanlon is that she raises her game when the stakes are high. The Garden City, New York native tied for first in the Patriot League with three game-winning goals.
Both Kreitler and O'Hanlon have demonstrated their potential to explode on offense, as each of them have tallied five goals in a game this season.
Despite O'Hanlon's 10 assists, the Raiders are not one of the better Patriot League teams at moving the ball, as they rank seventh in assists per game.
For BU to be successful on Wednesday, Robertshaw said they must contain Colgate's top two weapons and win one-on-one defensive battles.
"We need to have a strong one-on-one defense presence and we're going to look for that from [senior defender] Janelle Macone and [junior defender] Maria Guerra, and backing them up. We need a total team effort," Robertshaw said. "We want to limit their touches and make sure we have an eye on them when they have the ball."
To help counter Colgate's offensive duo, BU will be dependent on senior goalkeeper Caroline Meegan, who is second in the country with an average of 12 saves per game.
"It's really exciting to have a goaltender like Caroline that gets better and better," Robertshaw said. "She makes those big time saves in clutch moments that are really fun to watch. I know that she gives the entire team, both defenders as well as attackers, confidence to go out and play. When we're having those inconsistencies on attack, she doesn't change in net and that's really important."
In addition to dominating the scoresheet for Colgate, both O'Hanlon and Kreitler have won 67 of Colgate's 105 draw controls. After losing all-time draw control leader Jill Horka, the Terriers have struggled to find consistency in the circle.
Draw controls helped Loyola turn the game around in the second half on Saturday, as they won the first three controls, which enabled their onslaught on the BU goal in the first 10 minutes of the second half.
While Robertshaw acknowledged that the Terriers won't be able to win draw controls at the same rate as previous years, she has nonetheless made it a point of emphasis in practice this week.
"We just need to keep working at it," Robertshaw said. "We have a young group of people on the circle and we just have to get more and more practice. To be honest, it's just about battling. That's something they need to focus on, getting involved and getting aggressive and just doing everything they can to get the ball, it's not as much technique, it's just who wants it more."