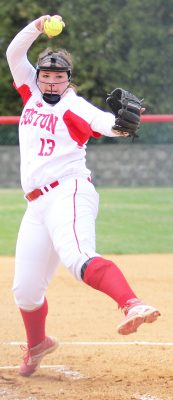 By Nick DiBona and Greg Levinsky
The Boston University softball team will look to end its six-game losing streak when it heads to the University of Massachusetts Amherst on Thursday for a doubleheader.
The games were originally scheduled to be played in Boston on Tuesday, but inclement weather forced them to be postponed and then ultimately moved to Amherst.
The Terriers (8-18, 0-3 Patriot League) started their season off well, going 5-4 through their first two season-opening tournaments. However, BU has not won a game since March 10 and is 1-9 in its last 10 games.
This weekend also marks an exciting opportunity for BU head coach Ashley Waters, who will face her alma mater, University of Maine, in a series after the doubleheader against UMass (8-14).
"I love playing Maine," Waters said. "When I used to play in the America East, the big matchup was always us and BU or Albany. It's special to play against them because I care a lot about the University [of Maine], but I'm proudly wearing red now, so I'll be rooting for the other side in that rivalry now."
Compared to the Terriers, the Minutewomen have had the opposite results. They started their season 2-10, but recently they have picked it up. UMass has won five in a row, yet has not played since March 15, so they could be rusty.
The Black Bears (5-17) are in a similar position to UMass, riding a two-game winning streak. Maine swept a doubleheader at Sacred Heart University last Saturday.
Although Waters looks forward to playing her alma mater, she said her team has to approach every game the same.
"We try to focus on one game at a time," Waters said. "We need to show up to every game the same and play our best softball every game, whether it's against Maine, Lehigh [University] or UCLA, and that's something we have gotten away from. Earlier in the season when we were playing better we were more crisp with our approach."
One of UMass' recent wins came against Lehigh in a convincing 6-1 victory. This past weekend, Lehigh (11-14, 3-0 Patriot League) swept the Terriers in three games, which included two games decided in five innings by the eight-run mercy rule. In the three games, BU allowed 30 runs total. The pitching has been inconsistent recently compared to earlier in the season.
Freshman pitcher Kali Magane has shown signs of brilliance, going all seven innings in four of her appearances and allowing just one earned run or fewer in six of her outings. However, she has struggled lately, allowing at least six runs in four of her past five appearances.
Senior pitcher Makinna Akers was also dominant early on, as her ERA was as low as 2.79 on March 9. However, it has climbed back up to 3.87 over the past two weeks.
"I think the biggest thing for [Magane and Akers] is to regain confidence," Waters said. "It was a tough weekend, and when you don't have your best stuff and start giving up runs, it turns you around. They tried overthrowing, so they just need to get their confidence back."
Another area in which BU needs to improve is preserving leads in late innings. In the past week, they have lost two late leads. First it was last Thursday against Bryant University, when the Terriers had a 2-0 lead heading into the fifth inning, but ended up losing 4-2. Then it was Sunday against Lehigh, when BU had a 6-3 lead heading into the the bottom of the fifth, but the Mountain Hawks proceeded to put up seven runs in the inning, resulting in a 10-6 loss for BU.
It will be essential for the Terriers to get hot again on offense later this week, as UMass has allowed just 2.4 runs per game in its last five games. UMass will likely feature freshman Candace Denis, who has a 2.25 ERA and nine complete games, on the mound in one of Thursday's games. While Maine doesn't have any particular ace, it allowed just two runs in its series against Sacred Heart (7-12).
In order for her offense to get back to its early season form, Waters said her team has to battle every at-bat.
"We need to be more consistent," Waters said. "Everyone needs to be a tough out, and opponents have done a good job with that, but we've gone down too easy. I thought we were good in the last game against Lehigh, but we need to be tougher and have more productive at-bats. It doesn't have to be a hit, but just a good out where you're moving the runner along."