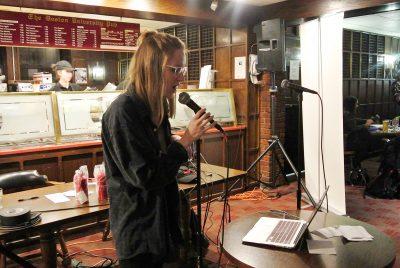 Boston University Pub's weekly karaoke nights presented a twist on Tuesday as officers of the Boston University Police Department joined the students as special guests for an evening of singing and laughter.
Lauren Oubre, the host and an account executive at PRLab who represents BUPD, said the karaoke night aims at fostering a better relationship between students and the police officers.
"Basically, the reason why we're hosting this event is to really just increase positive relationships and positive interaction between the BU student community and the BUPD," Oubre said.
She explained PRLab's role with the BUPD and mentioned several upcoming campaigns that they were collaborating on.
"We run their [public relations], we do their social media, event management and pretty much all their PR stuff," Oubre said.
Oubre then proceeded to mention the two upcoming campaigns, "Stop. Think. Secure." and "Pace Yourself." "Stop. Think. Secure." is an anti-larceny campaign, and "Pace Yourself" will help bring awareness to binge drinking and advocate for responsible drinking habits beginning in April, Oubre said.
Patricia Murphy, a BUPD officer, further elaborated on the two campaigns that Oubre introduced.
"We have the larceny campaign, so what happens is that a lot of the time students leave their property unattended, so what the PRLab is doing is handing out individual business card-type things on property that they find unattended," Murphy said. "To kind of let them know that you may not have realized it but this was left out, whether it be a laptop, a cellphone, an expensive jacket, that kind of thing."
She also emphasized how, with the larceny campaign, they were trying to solve the problem before it became a bigger issue. The same goes for the campaign on binge drinking.
"We also have a lot of alcohol-related incidents that come into the BU Police, protective custody, that type of thing," Murphy said. "So with 'Pace Yourself,' we're trying to educate people and bring down the numbers to help them in the future."
The karaoke night opened with BUPD officer Dianna Maneksha singing the hit song "Let It Go" from "Frozen."
"I have to say, she sang fantastically," said Alexandria Yen, a third-year graduate student in BU's College of Arts and Sciences.
Yen received plenty of laughs from the audience for her performance of "The Bad Touch" by the Bloodhound Gang.
The karaoke night continued with various renditions of songs, including those by artists such as Taylor Swift, Ed Sheeran and Journey. Most of the BUPD officers didn't sing, and were content with just talking and watching, although those who performed did so enthusiastically. Maneksha sang several times over the course of the night and Murphy got up to sing a duet with Oubre.
The night took a multicultural turn when Max Bork, a first-year German graduate exchange student in BU's Metropolitan College, and his group of friends decided to sing a popular Turkish song, "Kiss Kiss" by Tarkan.
Bork said he had no idea what the song was about, as he did not understand the language, but he knew the lyrics because of his Turkish friends.
Refocusing on the topic of the night, Murphy spoke about how the most important aspect of the evening was that the students understood that the police officers are approachable.
"I think it's important for people in the BU community to realize that the officers here are just normal people who also like to have fun," Murphy said. "And so this is an easy way to interact with people, laugh a little bit, and just get them to look at us in a different light."
Scott Paré, BUPD's acting chief and BU's executive director of public safety, said he had a very similar line of thought.
"I think this is a great opportunity for the officers to meet with the students, and the students to meet with the officers, in a very low-key setting, where we can actually enjoy each other's company and get to know each other," Paré said.
He said he wants the students to familiarize themselves with the officers, who are "real and down-to-earth people," and are there for the students to use as a resource whenever needed.
Murphy concluded by talking about how students need to realize everything BUPD can do for them, and understand that they are a resource present for them.
"I think it's important for students to understand everything that the BU Police has to offer," Murphy said. "We're here to help in every situation, so if anybody is doubting any kind of situation they're in, the BU Police is a great resource to have."