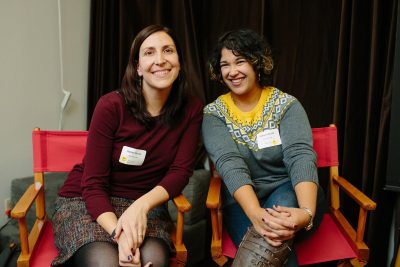 Conversations surrounding diversity and inclusivity have been at the forefront within the educational, political and corporate spheres, and a Boston-based organization is working to further implement these values into the workplace.
She Geeks Out, co-founded by Felicia Jadczak and Rachel Murray, is an organization that builds dynamic communities through events, networking and education. Their mission is to create an inclusive culture that values diversity and to develop talents and skills to transform organizations. She Geeks Out places an emphasis on gender diversity and supporting girls and women within their fields, according to their website.
Jadczak and Murray hosted their first SGO corporate workshop on March 23, the co-founders explained. These workshops are aimed at corporate audiences, specifically hiring managers, recruiters and directors of all backgrounds. The workshops are used to support the initial initiatives implemented within the workplace.
They started with "Power Hour," a mini workshop that taught attendees how to write inclusive job descriptions. On Thursday, they will offer a workshop called "Running an Effective and Inclusive Meeting."
"Last spring we did an event with a large company about networking and after the event they asked if we offered diversity training and we said, "When would you need it by?" Jadczak said. She later said, "We thought about moving into that space at some point but we didn't plan to work on it that early."
Thomas Harwell, the director of Student Diversity and Inclusion Initiatives in Boston University's Questrom School of Business, said he believes there are many benefits to maintaining diverse and inclusive environments and that all companies should strive for this kind of environment.
"I think that many organizations are starting to realize how important diverse and inclusive environments are to their ability to compete in a global marketplace," Harwell said.
He said adding diversity to the conversation, when talking about representation within an organization, is key.
"Understanding the long-term proposition of your organization necessitates an understanding of how the world is changing and how to be prepared to meet the needs of a changing global landscape," Harwell said.
According to the SGO workshop's Eventbrite page, the "Recruiting and Retaining for Diversity and Inclusion" workshop helps professionals make thoughtful and informed hiring decisions.
"Creating an inclusive environment means creating a more tolerant world," Murray said. "Everyone has biases, and that's OK, and we have the luxury to explore them."
Overall the response to these trainings have been positive, Jadczak said, and companies have increasingly been thinking about diversity and inclusion issues at a broader level while working on how to implement them into their internal structures.
"There are very specific and concrete ways we can address issues around recruiting and creating an inclusive culture," Murray said. "There are also things we can do to deal with unconscious and conscious biases."
Diversity of age, thought, race, ethnicity and ability are being considered as things to value rather than things that create a divide, she added.
"There's a lot of dialogue about the recruiting pipeline and getting people from diverse backgrounds into different companies," Jadczak said. "If you get those people in the door but you have no follow-up and you have culture that's negative or harmful then you're wasting time and effort."
Saania Malik, a senior in Questrom, said she believes that inclusive work environments are crucial to the success of an organization.
"Problem solving in today's dynamic business environment is not as straightforward as it once was, and with innovation as the key, bringing together minds with different biases, optimizes the chances of a unique solution," Malik said. "Employees from different walks of life, such as employees of different genders, ages, ethnicities or socioeconomic backgrounds all add a unique layer of thinking."