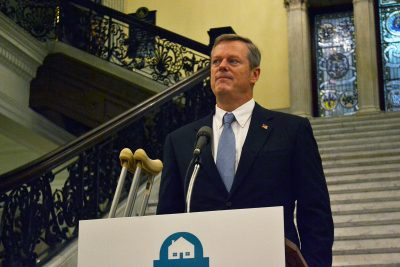 Massachusetts Gov. Charlie Baker and Lt. Gov. Karyn Polito announced Tuesday that the Baker-Polito administration will grant $20 million to affordable housing projects in the state.
The money will go to seven large housing projects that support veterans, the elderly, homeless families and individuals with disabilities, according to a press release from the state.
"Our administration strongly believes in the value of affordable housing, and as advocates for every Massachusetts resident we will continue to work with our federal, local and community partners to ensure housing is shared priority," Baker said in the release.
Gail Fortes, the executive director of YWCA Southeastern Massachusetts, said the $451,000 from federal funding and $550,000 in state subsidizing will help to build a handicap-accessible area and a childcare and residential program for single low-income women.
"Low-income women are given a subsidy, which is provided with support from services," Fortes said. "We will have wraparound services, meaning staff will work with them to develop individual plans. It will get the women to be self-sufficient, and to be able to support themselves."
John Yazwinski, the CEO and president of Father Bill's and MainSpring, a homelessness prevention program in southern Massachusetts, said the average salary income that people make in Massachusetts and the average housing costs do not match up, which then forces people to pay more than they can afford.
"We worked with seven homeless veteran who combined together, spend half a million dollars for all their issues, like inpatient rooms and visits to the emergency room," Yazwinski said. "We can house them for $20,000 with housing and support. There are tremendous savings, but you have to be committed to be the housing."
Ed Cameron, the CEO of Housing Families, an organization that provides temporary shelter and affordable housing to homeless and at-risk families, said the grant money they received will allow them to provide services to eight formerly homeless families.
"We are going to be able to help these eight families with getting into the workforce and helping them take care of other things like healthcare, getting checked by proper medical professionals, making sure kids are set with school and overall support roles," Cameron said.
Several Boston residents said they saw the $20 million in funding as a beneficial opportunity for the Massachusetts community and lamented the high cost of living.
Tiffany McCann, 31, of Brighton, said affordable housing is "definitely needed" in the city of Boston.
"A lot of families aren't able to survive with just one parent working," McCann said. "The rental and housing market is outrageous. Even if you aren't on a minimum wage job, it is impossible to afford housing."
Kattie Lam, 28, of Allston, expressed her support for affordable housing projects in Boston.
"I am for [affordable housing]," Lam said. "I think it is a good step that all residents are taken care of within the Massachusetts area."
Peng Zhao, 21, of Brighton, said he appreciates the fact that the government is providing support for people who need it through affordable housing.
"Housing here is so expensive … it's difficult to pay rent already, and if you are on minimum wage and also have a family, I don't see how you can survive," Zhao said.