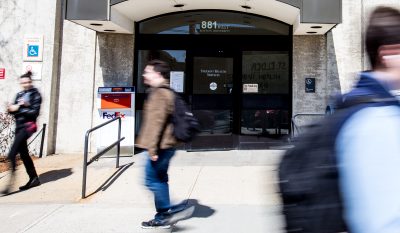 A study from the Association for University and College Counseling Center Directors shows more than half of college students who visit college counseling centers have symptoms of anxiety, leading universities like Boston University to increase their counseling staff.
Anxiety symptoms were the top reason students visited mental health clinics for the seventh consecutive year, according to the study published on Wednesday. Anxiety took the number one spot from depression in 2009 and has been increasing in frequency since then, the study shows.
The survey recorded data from hundreds of counseling centers from private and public colleges across the country from September 2015 to August 2016.
BU psychology professor Stefan Hofmann said college students are especially prone to mood disorders, which often result in feelings of anxiety.
"College is very much a time when you can worry a lot about lots of things," said Hofmann, who is the director of the Psychotherapy and Emotion Research Laboratory. "There is plenty to worry about — about your grades, about your future, about finances, about your friendships, relationships."
Hofmann said anxiety is often accompanied by additional mental issues.
"Often, this kind of condition comes along with a lot of other problems," he said. "People try desperately to control [their anxiety]. There's often overuse of medication, sometimes even substance use problems come with it. People try to self-medicate with alcohol and other things. There are even mood disorders [that] are associated with it, sometimes even suicide."
In terms of treatment, Hofmann said the Center for Anxiety and Related Disorders in Kenmore Square serves many college students. The treatment center is open to the community, with a full staff of trained clinicians to treat anxiety disorders.
BU spokesperson Colin Riley said BU has also added staff on campus to help students with anxiety and related issues.
"At Boston University, we did increase the number of positions specifically so we would be able to be effective at prioritizing the demand and making sure people can be seen as soon as possible," Riley said.
Like Hofmann, Riley said BU is not unique in facing the rise of anxiety disorders and its awareness in college students.
"It isn't just restricted students who are in college or university. Some of it has to do with what is going on in society," he said.
Riley noted the importance of college students maintaining healthy habits to mitigate anxiety symptoms, like sleep hygiene.
"There are ways to deal with stress, and I think that's the most important thing," he said. "There are healthy ways to do it. Make sure you get sufficient sleep and that means go to bed at a certain time."
Riley also mentioned the importance of taking downtime for oneself.
Several students said they have experienced symptoms of anxiety themselves or see symptoms in their friends.
Miriam Passaro, a freshman in the Sargent College of Health and Rehabilitation Sciences, said she thinks college stressors can temporarily worsen anxiety.
"I think it's a really large problem, but I also think it's a phase really, and it's just the pressure of having so many responsibilities with classes and also thinking about the future," Passaro said. "That's where it comes from."
Ebrahim Ebrahim, a senior in the College of Arts and Sciences, said that although he has not experienced anxiety, he can understand why it is so common in college populations.
"[College is] just kind of a time in our life where really important things are happening," Ebrahim said. "We have to make really big decisions."
Joseph Paller, a freshman in the College of Engineering, said because of his workload, he finds it difficult to get a decent night of sleep, which can aggravate his stress.
"I'm a first-year engineering student, and the amount of work is incredibly stressful and often leads to not a lot of sleep," he said. "Most people that I know don't get enough sleep. For what I know, that can lead to certain mental health issues especially increasing stress and stuff like that."
Paller also said he thinks BU should advertise its counseling services more because many students are unaware they exist.
"I think a lot of people are afraid to use [counseling] resources or don't really know that they're available," he said.